General
Money
Entry Requirements
Health & safety
Weather
Embassies
Etiquette
Public Holidays
Attractions
Map
---
Introduction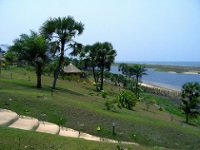 Congo ©L'amande
Not to be confused with its embattled neighbour to the east, the Democratic Republic of the Congo, the Republic of the Congo offers the same magnificent wilderness, the same mighty river, but with less political instability, making it a far more desirable travel destination. The northern rainforests are virtually uninhabited, or rather, are uninhabitable because of the dense undergrowth and vast swampland. A whopping 85 percent of the population reside in and between the capital of Brazzaville and Pointe Noire, only 332 miles (534km) apart, and these are the main areas that foreigners visit.
While the Republic does not have a developed tourist industry, having recently emerged from six years of civil war, there is still plenty to do in the Congo. The Odzala-Kokoua National Park is one of the largest in Africa and revered for its conservation of forest elephants and the western gorilla. Brazzaville is located right on the banks of the Congo River and is a popular pitstop for travellers seeking out nearby adventures such as white water rafting or jungle trekking. Down the rail line, in and around the coastal town of Pointe Noire, one can savour the warm, if somewhat narrow, beaches of the Atlantic Ocean while visiting the museums in Diosso Gorge and the nearby Tchimpounga Chimpanzee Rehabilitation Centre.
Since the peace accord in 2003, the Republic of Congo has been fairly quiet, although there are a few regions in the country which are best avoided, and sometimes conflict in the Democratic Republic of Congo spills over into the Republic of Congo. Although not known as a popular tourist destination, the Congo is an exciting and worthwhile country to explore for those with a taste for adventure and a desire to get off the beaten path.
Communications
Landline telephone penetration is low in the Republic of Congo and landlines are often out of order due to extremely limited and poorly maintained telecommunications infrastructure. Cellular phone usage has increased hugely over the last few years. There are numerous internet cafes in Brazzaville and Pointe Noire and a number of hotels and restaurants offer free wireless internet access. The international access code for the Republic of Congo is 242. The area code for Brazzaville is 28, and Pointe Noire 29.
Emergencies
Police: 117.
Languages Spoken
The official language is French. Lingala and Kituba are widely spoken.
Duty Free
Visitors to Congo do not need to pay import tax on one bottle of spirits and one bottle of wine and an amount of perfume reasonable for personal use. Men may import up to 200 cigarettes/50 cigars/227g of tobacco, while women may only bring cigarettes. Cameras may be temporarily imported by tourists, however radios, audio equipment and gifts are subject to import tax.
Electricity
Electrical outlets in the Congo usually supply electricity at between 220-240 volts, 50/60Hz. European two-pin plugs with round or flat pins are standard.
Climate Info
The Republic of Congo has a tropical climate with high temperatures and high humidity year-round and a lot of rainfall. The equator crosses the country just north of Liranga. There is little seasonal variation in temperature, but the climate does vary according to terrain and region. The average temperature is a humid 75°F (24°C) during the day, and slightly cooler at night. It seldom gets cold. The terrain is a variation of mountainous regions and flat coastal plains, with about 70 percent of the country covered by rainforest. It is rainy almost all year, with a brief dry season between June and September in the south, and between December and February in the north. During the wet months the country's rivers are routinely flooded and travel by road becomes difficult.
The best time to visit the Republic of the Congo is in the cooler dry season, which is between June and August, however it is wise to note that the north remains fairly wet throughout the year. Travellers should be sure to take plenty of insect repellant and sunscreen, and should pack light, breathable clothing as well as waterproofs.
Passport
Visitors require proof of sufficient funds to cover their stay and in addition to a visa visitors must hold a letter of invitation or a hotel reservation. Visa exemptions apply only to those passengers in possession of a V.I.P invitation letter. A yellow fever vaccination is required for all visitors over one year of age. NOTE: It is highly recommended that your passport has at least six months validity remaining after your intended date of departure from your travel destination. Immigration officials often apply different rules to those stated by travel agents and official sources.
Entry Requirements
US citizens must have a valid passport and a visa to enter the Republic of the Congo.
British citizens must have a valid passport and a visa to enter the Republic of the Congo.
Health
Malaria is prevalent in the Congo and a prophylaxis with Lariam, Malarone or doxycycline is recommended for all areas. A yellow fever vaccination is required for all travellers to the Congo over one year of age. Vaccinations are also recommended for hepatitis A, hepatitis B and typhoid. Visitors should also ensure that they are up to date on their vaccinations for polio, MMR (measles, mumps, rubella) and tetanus-diphtheria. Those who plan on spending a lot of time outdoors and will be at risk of animal bites should consider a rabies vaccination. HIV Aids is common in the Congo and visitors should be sure not to engage in unprotected sex.
According to official sources, there have been reported incidents of packs of rabid dogs in Pointe Noire. Necessary precautions in the area are thus encouraged. Furthermore, since the outbreak of the Ebola virus in recent years, all visitors to the country are advised to abstain from consuming bush meat, as it is though to be responsible for the disease.
Medical facilities are extremely limited throughout the country, particularly in rural areas. Many medicines are in short supply and travellers should bring their own supplies of medications they require, in their original packaging, and with a dated and signed letter from a doctor detailing what the medication is and why it is required. Visitors should not drink tap water unless it has been filtered, chemically treated or boiled. Visitors should ensure that they have comprehensive travel insurance as any serious injury or illness is likely to require medical evacuation.
Safety
Although the Republic of Congo is still recovering from civil war, there have been far fewer serious episodes of conflict or violence since the 2003 peace accord. Nevertheless, most travel authorities, including the US Department of State and the British Foreign and Commonwealth Office, advise against travel to certain regions of the country. Brazzaville saw violent clashes as recently as April 2016, and tourists visiting the city are advised to mantain a high level of security awareness, abstain from night time travel and avoid all political protests. Travellers should avoid all travel to the Likouala province, which has been flooded by refugees from the Democratic Republic of Congo, and all but essential travel should be avoided to the Pool region, south of Brazzaville.
Care should be taken on the road between Brazzaville and Pointe Noire, which has a history of roadblocks and robberies. The train route between these two cities is generally safer, although caution is still advised. Visitors should stay well-informed of any disruptions or unrest in the country, and in the neighbouring DRC, as violence sometimes spills over the border. Petty crime is common in the Republic of Congo and there have been incidents of violent crime against tourists. Armed robberies, vehicle break-ins and muggings are unfortunately quite common, especially near ports, outside popular restaurants and bars, and on the beaches, which should be avoided completely at night. Travellers should stay alert and take all precautions possible against crime.
Emergency Phone Number
Police: 117.
* For current safety alerts, please visit
Foreign travel advice - GOV.UK
or
Travel.State.Gov
Money
The Central African CFA franc (FCFA) is the official currency of the Republic of the Congo (along with five other central African countries). It is divided into 100 smaller units called centime. The Congo is primarily a cash economy. A few hotels in Brazzaville and Pointe Noire now accept major credit cards but cash is usually the only method of payment in the country. There are a handful of ATMs in Brazzaville that accept foreign cards, and a few in Pointe Noire. It is possible to exchange foreign currency at a number of banks.
Exchange Rate
Not available.
Embassies of Congo
Republic of Congo Embassy, Washington (also responsible for Canada). Tel: (202) 726-5500.
Republic of Congo Honorary Consulate, London. Tel: (203) 077 9958.
Republic of Congo Embassy, Pretoria. Tel: (012) 342 5508.
Foreign Embassies in Congo
United States Embassy, Brazzaville. Tel: (242) 06 612 2000.
United Kingdom Honorary Consul, Brazzaville. Tel: (242) 066 473 23/ (242) 055 513 251.
Canadian Embassy, Kinshasa (also responsible for Republic of Congo). Tel: (243) 99 602 1500.
South African Embassy, Brazzaville. Tel: (242) 660 0211.
Customers
There are a variety of customs and cultures in the Congo as many communities have their own traditions and beliefs. Casual clothing is acceptable; however, keep in mind that the Congolese take great pride in their appearance, and an overly casual appearance may be frowned on. Photographing military, government, and banking buildings is prohibited.
Business
The Republic of Congo is one of the lowest-ranked countries in the world for ease of doing business due to the country's history of poverty, conflict and corruption, but the Congolese people are renowned for their friendliness and are generally very welcoming of foreigners.
Forestry is a large part of the economy of the DRC, with roughly 60 percent of the country covered in tropical rainforest. Other potential cash crops include sugar, palm oil, coffee, and cocoa; other exports include sawn timber, petroleum, and diamonds.
Business practices are fairly formal; however, due to the hot climate, suits are often worn only when meeting with government officials. The society is patriarchal and women should generally avoid wearing trousers to business meetings. Handshakes are the acceptable mode of greeting. Office hours are generally from 8am to 12pm and 2pm to 3pm from Monday to Friday, and 8am to 12pm on Saturday. One of the main obstacles to doing business in the Congo is the lack of high-quality communications infrastructure, making it difficult at times to get a good phone line, or high-speed internet connection.
Tipping
Small tips are appreciated and often expected in the Republic of the Congo. Generally restaurants don't add a service charge so a tip of about 10 percent is welcomed by waitors.
Public Holidays in Congo
| | | |
| --- | --- | --- |
| | 2017 | 2018 |
| New Years Day | 1 Jan | 1 Jan |
| Labour Day | 1 May | 1 May |
| Whit Monday | 5 Jun | 21 May |
| Easter Monday | 17 Apr | 2 Apr |
| Reconciliation Day | 10 Jun | 10 Jun |
| Congo National Day | 15 Aug | 15 Aug |
| Christmas Day | 25 Dec | 25 Dec |
| Ascension Day | 25 May | 10 May |
| All Saints Day | 1 Nov | 1 Nov |
Overview
The Republic of Congo has some really exciting tourist attractions but doesn't yet have the infrastructure to support tourism. The country is considered mostly safe for foreigners, although crime is a problem, but the roads are poor and sometimes impassable, making it difficult to reach the amazing destinations the country has to offer. As a result, tourists tend to stick to the two largest cities, Brazzaville and Pointe Noire, which both have international airports and are linked by rail.
Both cities have sights of interest for visitors and there are many natural wonders nearby to investigate: the beaches of Pointe Noire are particularly popular; Brazzaville is situated on the banks of the massive Congo River; and the dramatic Diosso Gorge is easily accessible. However, it seems a pity not to venture beyond the cities into the Congolese wilderness, as the rainforest and its wildlife are really the Congo's greatest attractions. The Congo Basin is home to the second largest rainforest in the world. The best place to experience the country's famous but relatively unexplored flora and fauna is the Odzala-Kokoua National Park, where tourists can seek out forest elephants and gorillas, which are now so endangered that it is difficult to find them anywhere in the wild.
Travel Guide powered by www.wordtravels.com, copyright © Globe Media Ltd. All rights reserved. By its very nature much of the information in this guide is subject to change at short notice and travellers are urged to verify information on which they're relying with the relevant authorities. Globe Media and UNIGLOBE Travel does not accept any responsibility for any loss or inconvenience to any person as a result of information contained above.