General
Money
Entry Requirements
Health & safety
Weather
Embassies
Etiquette
Public Holidays
Attractions
Map
---
Introduction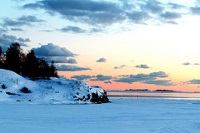 Helsinki seaside ©Fintrvlr
The sun never quite sets in Finland in summer time but it also never quite rises during the winter in this scenic country of lakes, islands, forests, pristine wilderness and super-modern technology. This is because Finland extends well into the Arctic Circle.
This land of contrasts is full of plenty to delight, amuse, inform and enchant the visitor, from its forbidding castles and onion-domed Slavic churches to the reindeer herds of the indigenous Sami people in Lapland in the north. The lively, modern capital city of Helsinki is packed with galleries, museums and cafes, but beyond, in the countryside, there are miles of pristine wilderness to explore in the rare clean, clear air as 69 percent of the country is covered in forest and there are 35 national parks.
You can come in from the cold to a sauna, as Finland invented them. In fact, the country has an unbelievable 1.6 million, so you'll be hard-pressed to avoid them.
Despite its seemingly rugged nature, Finland is by no means a backward country. In fact it is regarded as being one of the most hi-tech societies in the world, with Internet connections per person surpassing that of the United States and United Kingdom.
Dine on reindeer steaks, visit Santa Claus in his northern Arctic home, ski or dog sled across miles of virgin snow, or tap your toes at one of the numerous music and folk festivals held throughout the year. It is not surprising that Finland has been described as the most underrated tourist destination in Europe.
Communications
The international country dialling code for Finland is +358. Mobile phone networks cover much of the country; the network operators use GSM networks, which are compatible with most international mobile operators. Besides public telephone booths and hotels, calls can be made from post and tele offices. Internet cafes are available in major towns and cities.
Emergencies
112 (General)
Languages Spoken
Finnish and Swedish share status as Finlands official languages. Sami is spoken by the isolated population group in Lapland. English is taught at schools and is widely understood.
Duty Free
Travellers to Finland arriving from the EU can enter Finland without restrictions on the quantity of purchases, provided they have been bought in the EU for personal consumption or as gift items. No restrictions are placed on meat and dairy products. Some restrictions may apply to selected tobacco products. Travellers over 17 years arriving from non-EU countries are allowed to bring in the following items without incurring customs duty: 200 cigarettes, or 100 cheroots, or 50 cigars, or 250g of tobacco. Travellers over 20 years can bring in 1 litre of spirits with maximum 22 percent alcohol content, or 2 litres of fortified or sparkling wine not exceeding 22 percent alcohol content, and 2 litres of non-sparkling wine and 16 litres of beer; perfume up to 50g and 250ml of eau de toilette; and other goods for personal consumption to the value of €175.
Electricity
Electrical current is 230 volts, 50Hz. Standard European two-pin plugs are in use.
Climate Info
Considering how far north Finland is the country has a milder climate than one might expect. In general Finland has an extreme swing between summer and winter, with bitterly cold winters when temperatures drop to -4ºF (-20ºC) in many areas, particularly in northern Lapland. Summer, by contrast, can be surprisingly warm with temperatures rising to 68ºF (20ºC) or more. Temperatures as high as 86ºF (30ºC) are possible in the south and east of the country. The capital, Helsinki, remains fairly temperate varying between an average of 63ºF (17ºC) in July to 23ºF (-5ºC) in February. February is the coldest month in Finland and July is the warmest. Snow usually covers the ground in southern Finland from December to April, and northern Finland is snowbound from October to April. In the far north the sun does not set for about 73 days during summer, while in winter the sun remains below the horizon for a 51-day stretch. The winter night sky - especially in the northern areas of Finland - is often lit up with the seemingly magical light displays of the aurora borealis or Northern Lights. The best time to visit Finland is between May and September, if you want the mildest weather, but when you should go is dependent on what you want out of your holiday.
Passport
The borderless region known as the Schengen Area includes the following countries: Austria, Belgium, Czech Republic, Denmark, Estonia, Finland, France, Germany, Greece, Hungary, Iceland, Italy, Latvia, Lithuania, Luxembourg, Malta, The Netherlands, Norway, Poland, Portugal, Slovakia, Slovenia, Spain, Sweden and Switzerland. All these countries issue a standard Schengen visa that has a multiple entry option, and which allows the holder to travel freely within the borders of all the aforementioned countries. Additionally, travellers to Finland must hold sufficient funds for their duration of stay in the country, a return or onward ticket, and the necessary travel documentation for their next destination. Also note that joint passports must include a photograph of the spouse and, if issued after May 1, 2004, a photograph of each child over seven years of age and up to and including 15 years of age. Otherwise, a photo identification card showing the child's name, date of birth and nationality must be presented, together with the passport. NOTE: It is highly recommended that your passport has at least six months validity remaining after your intended date of departure from your travel destination. Immigration officials often apply different rules to those stated by travel agents and official sources.
Entry Requirements
US citizens must have a passport that is valid for three months beyond the period of intended stay in Finland. A visa is not required for a stay of up to 90 days in a six-month period.
Holders of identity cards issued by Gibraltar authories, and endorsed 'Validated for EU travel purposes under the authority of the United Kingdom', do not require a visa to visit Finland.
Canadian citizens must have a passport that is valid for three months beyond the period of intended stay in Finland. A visa is not required for a stay of up to 90 days in a six-month period.
Australian citizens must have a passport that is valid for three months beyond the period of intended stay in Finland. A visa is not required for a stay of up to 90 days in a six-month period.
South African citizens must have a passport that is valid for three months beyond the intended period of stay, and a valid Schengen visa, to enter Finland.
Irish citizens must have a passport that is valid for the period of intended stay in Finland. No visa is required.
New Zealand citizens must have a passport that is valid for three months beyond the period of intended stay in Finland. A visa is not required for a stay of up to 90 days in a six-month period.
Health
There are no health risks associated with travel to Finland. Visitors to the Aland Islands in the summer months should be cautious of tick-borne encephalitis. A tetanus-diphtheria vaccine is recommended for all travellers who have not received one within the last 10 years. Tap water is safe to drink in Finland. Medical care is of a good standard and medication is easy to find. British, and other EU nationals, should ensure they take a European Health Insurance Card (EHIC), which entitles citizens to emergency medical treatment on the same terms as Finnish citizens. Comprehensive travel insurance is advised.
Safety
Crime levels are low in Finland and visitors can be assured of a trouble-free vacation. Drug offences and drinking and driving are dealt with very harshly. The main danger in the country is driving during the winter months, when icy roads are a hazard and cars must be fitted with snow tyres.
Emergency Phone Number
112 (General)
* For current safety alerts, please visit
Foreign travel advice - GOV.UK
or
Travel.State.Gov
Money
The official currency of Finland is the Euro (EUR), which is divided into 100 cents. Banks, ATMs and bureaux de change are available in all cities and airports; banks are closed on weekends. American Express, Diner's Club, Eurocard, Access, MasterCard and Visa are accepted in hotels, restaurants and larger shops. ATMs are the easiest and most economical way to get cash.
Exchange Rate
Not available.
Embassies of Finland
Embassy of Finland, Washington DC, United States: +1 202 298 5800.
Embassy of Finland, London, United Kingdom: +44 (0)20 7838 6200.
Embassy of Finland, Ottawa, Canada: +1 613 288 2233.
Embassy of Finland, Canberra, Australia: +61 (0)2 6273 3800.
Embassy of Finland, Pretoria, South Africa: +27 (0)12 343 0275.
Embassy of Finland, Dublin, Ireland: +353 (0)1 478 1344.
Consulate-General of Finland, Wellington, New Zealand: +64 (0)4 924 3416.
Foreign Embassies in Finland
United States Embassy, Helsinki: +358 (0)9 616 250.
British Embassy, Helsinki: +358 (0)9 2286 5100.
Canadian Embassy, Helsinki: +358 (0)9 228 530.
Australian Honorary Consulate, Helsinki: +358 (0)10 42 04 492
South African Embassy, Helsinki: +358 (0)9 6860 3100.
Irish Embassy, Helsinki: +358 (0)9 6820 4240.
New Zealand Embassy, The Hague, Netherlands (also responsible for Finland): +31 (0)70 346 9324.
Customers
A Finnish way of life, the sauna is a popular activity in Finland, so expect to encounter one. Words are taken seriously in Finland and people are held to what they say, so think before you speak.
Business
Business is conducted formally in Finland. A formal, understated sense of dress is important. Punctuality is also very important in Finland and being late is considered rude. Appointments should always be made and confirmed. Meetings are often strictly business and are not often over lunch. Finns do not require a strong relationship prior to doing business, and business often takes place over the phone, fax and via e-mail. However, the sauna is an important part of the culture and it is not unusual for business to be discussed in this environment on a more sociable level. Finns are very direct and prefer getting straight to the point. Often a verbal agreement may hold. At meetings business cards are exchanged and should have, on the alternate side, details in Finnish. Business hours are generally 8am to 4.15pm Monday to Friday.
Tipping
Tips are not expected in Finland because a service charge is generally added to restaurant, bar and hotel bills, but customers often choose to round up the bill when paying in cash. Taxi drivers also appreciate any small change or coins that are added to round up the fare.
Public Holidays in Finland
| | | |
| --- | --- | --- |
| | 2017 | 2018 |
| New Years Day | 1 Jan | 1 Jan |
| Epiphany | 6 Jan | 6 Jan |
| Good Friday | 14 Apr | 30 Mar |
| Easter Monday | 17 Apr | 2 Apr |
| May Day | 1 May | 1 May |
| Ascension Day | 25 May | 10 May |
| Midsummers Eve | 23 Jun | 22 Jun |
| Independence Day | 6 Dec | 6 Dec |
| Christmas Eve | 24 Dec | 24 Dec |
| Christmas Day | 25 Dec | 25 Dec |
| Boxing Day | 26 Dec | 26 Dec |
Overview
From the pulsating cultural scene in the capital of Helsinki to the striking natural beauty of the jagged and icy countryside, Finland remains one of the more unexplored places in Europe. While the cities and towns offer many unique cultural and historical attractions, the natural surroundings serve as a playground for both winter and summer activities.
Helsinki is the main point of entry for most visitors to Finland. This is where sightseers will find the country's finest museums, art galleries, restaurants, and shopping. It's easy to spend a week exploring the city and enjoying the cultural attractions. Some of the most important sights in the city include Finlandia Hall, the architecture around Senate Square, Suomenlinna, and the underground Rock Church.
Those with an interest in history or art will also want to allow some time to wander through the Finnish National Museum or the Finnish National Museum of Art. Nearby, the Open-Air Folk Museum on the island of Seurasaari, with old houses and timber buildings, reveals an in depth historical perspective on Finland.
From Helsinki there are a number of great day trips. Northeast of the city is the historic town of Provoo, which can be reached by road or by boat. To the north of Helsinki lies the medial castle at Hameenlinna. To the west lies Turku, the ancient capital of Finland. Those looking to venture further afield will find a countryside of forests and lakes.
Map of Finland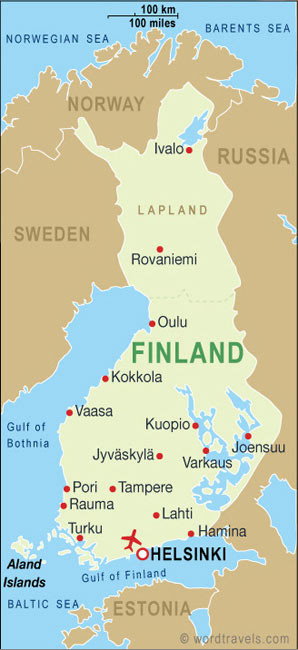 Travel Guide powered by www.wordtravels.com, copyright © Globe Media Ltd. All rights reserved. By its very nature much of the information in this guide is subject to change at short notice and travellers are urged to verify information on which they're relying with the relevant authorities. Globe Media and UNIGLOBE Travel does not accept any responsibility for any loss or inconvenience to any person as a result of information contained above.