General
Money
Entry Requirements
Health & safety
Weather
Embassies
Etiquette
Public Holidays
Attractions
Map
---
Introduction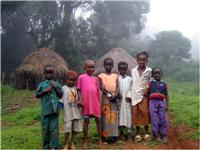 Children in Guinea
Those who travel to the Republic of Guinea will find this beautiful and intriguing west African country to be an incredibly worthwhile destination.
Surrounded by Guinea-Bissau, Senegal, Mali, Côte d'Ivoire, Liberia and Sierra Leone, the country has somewhat illogical borders that are a relic of the colonial era when the region was shared out between European powers. Today these borders enclose a very diverse population of ethnic and linguistic groups, and a varied terrain that ranges from expansive savannah in the south to mountainous, heavily forested highlands in the northwest.
Indeed Guinea's chief attraction is its spectacular and mostly unspoiled natural scenery. West Africa's three great rivers - the Gambia, the Senegal and the Niger - all originate here. The splendid Guinea Highlands are centered on Mount Nimba, the highest point in the country, while the Fouta Djalon highlands are renowned for incredible views and superb hiking. Other places of interest in Guinea include the spiritual centre of Kankan, the high altitude town of Dalaba, party-mad Faranah, and the incredible beaches of Cape Verga.
The population is mostly Muslim, French speaking, and rural, with the exception of the pleasant and relatively cosmopolitan capital city, Conakry, located on the island of Tombo. The city is renowned for its lively music scene and attractive layout.
Despite its rewarding and striking attractions Guinea remains one of the least visited countries in Africa. Visas can be hard to get, which may deter those travellers planning a trip here. The government, despite some concessions in recent years, remains a de facto dictatorship which means few freedoms for the people but generally safe conditions for visitors.
Communications
Mobile phone usage far outstrips landline use in Guinea, as telecommunications infrastructure tends to be limited and ageing. Many locals don't have access to the internet, but it is possible to find internet cafes and hotels with internet in the big cities. The international dialling code for Guinea is 224, and city codes are in use (Conakry has a number of codes, but the most common is 41).
Languages Spoken
French is the official language of Guinea, but over 40 languages are spoken. Several indigenous languages have been declared national languages, including Fula, Malinke, Susu, Kissi, Kpelle and Toma.
Duty Free
Visitors to Guinea may import up to 1,000 cigarettes, 250 cigars or 1kg of tobacco. Also permitted is one bottle of alcohol, and an amount of perfume reasonable for personal use.
Electricity
Electrical outlets in Guinea usually supply electricity at 220 volts, 50Hz. European two-pin plugs with round pins are standard.
Climate Info
The coastal belt of Guinea and most of the inland region have a tropical climate, with a long rainy season lasting from April to November. The capital, Conakry, has a year-round average high of 84 °F (29 °C), and a low of 73 °F (23 °C), which shows that the country hasn't got a broad or extreme range in temperature from season to season.
The best time of year to visit Guinea is between November and March as at this time the weather is moderate and the temperatures comfortable. From December to February the famous harmattan winds spread Saharan sand through much of the country but this is not a serious hinderance to travellers. The rainy season - which is very rainy indeed - is at its most extreme in July and August and this period is bad for travel not just because of the monsoon-like rain but also because many of the roads close as a result. The months of May, June, September and October are also okay for travel as rain during these months is more moderate.
It should be noted that Guinea incorporates diverse landscapes and climate can change quite substantially according to region: the mountainous areas are much cooler than the flatlands and savannah, for example. Plan your trip according to the specific weather of the area which you want to explore and your desired activities.
Passport
All foreign passengers to Guinea must hold return or onward tickets, and the necessary travel documentation for their next destination; OR, sufficient funds equal to a return airfare, and a Certificat d'Hebergement (Certificate of Accommodation). Also note that: (i) the government of Guinea does not accept wet stamp visas for entry into the country (only sticker-type visas are valid); (ii) every visitor staying longer than three months in Guinea is considered an alien resident, and has to hold an Alien Registration Card (to be obtained from the Direction de la Surete in Conakry); and (iii) a yellow fever vaccination certificate is required to enter Guinea. NOTE: It is highly recommended that your passport has at least six months validity remaining after your intended date of departure from your travel destination. Immigration officials often apply different rules to those stated by travel agents and official sources.
Entry Requirements
US citizens must have a passport valid for duration of stay in Guinea. A visa is required.
British citizens must have a passport valid for duration of stay in Guinea. A visa is required.
Canadian citizens must have a passport valid for duration of stay in Guinea. A visa is required.
Australian citizens must have a passport valid for duration of stay in Guinea. A visa is required.
South African citizens must have a passport valid for duration of stay in Guinea. A visa is required.
Irish citizens must have a passport valid for duration of stay in Guinea. A visa is required.
New Zealand citizens must have a passport valid for duration of stay in Guinea. A visa is required.
Health
Malaria is a problem in Guinea and travellers should take some form of prophylaxis in all areas of the country. Insect protection measures are essential. A yellow fever vaccination is required for all travellers arriving from yellow fever areas, and is recommended for all travellers to Guinea. Hepatitis A, hepatitis B and typhoid vaccinations are recommended, and those travelling to Guinea in the dry season (November to June) should get a meningococcus vaccination. Those at risk of animal bites or who may be in contact with bats should consider a rabies vaccination. Travellers are generally advised to be up to date on vaccinations for polio, MMR (measles, mumps, rubella) and tetanus-diphtheria.
Travellers should not drink tap water in Guinea unless it has been boiled, filtered or chemically disinfected, and should avoid ice in beverages. Don't eat fruit and vegetables unless they have been cooked or peeled, and eat all cooked meals while still hot.
Medical facilities in Guinea are extremely limited and visitors should ensure that they have comprehensive travel and health insurance. Private clinics provide better care than government hospitals, but medicines may still be in short supply. Visitors should take along any medication they may need, in its original packaging and accompanied by a signed and dated letter from a doctor detailing what the medicine is and why it is needed.
Safety
Guinea is generally a safe country and most visits are trouble free, but crime is found in cities like Conakry.
Although the political situation in Guinea has stabilised in recent years, there are ongoing political tensions which have lead to sporadic violent demonstrations in the capital. Conflict in the country is largely political and all protests and political gatherings should be avoided.
Military checkpoints and roadblocks are common throughout the country and tourists should carry identification at all times. There is a low general threat from terrorism: no terrorist attacks on foreigners have been reported in Guinea but there is the possibility of retaliatory attacks by terrorist groups in neighbouring countries. Armed robbery of vehicles is on the increase, especially in the south of the country, and travellers should avoid driving at night.
* For current safety alerts, please visit
Foreign travel advice - GOV.UK
or
Travel.State.Gov
Money
The official unit of currency in Guinea is the Guinean franc (GNF). US dollars, euros and West African CFA francs are fairly easy to exchange in Guinea, especially in the capital, Conakry, but it is difficult to exchange Guinean francs for foreign currency. ATMs are very rare in Guinea and credit cards are not commonly accepted. Bicigui bank outlets in most cities will advance cash from Visa cards.
Exchange Rate
Not available.
Embassies of Guinea
Foreign Embassies in Guinea
Customers
As most Guineans are practising Muslims, conservative dress (especially for women) and judicious behaviour is essential, especially during religious festivals and celebrations. Greetings are very important in Guinea, as is respect for one's elders - offer a firm handshake and inquire about their well-being, but avoid making direct eye contact with seniors. Guineans are wary of photography, so ask permission before taking anyone's photo, and avoid taking pictures of military buildings or installations. It is also considered rude to show the soles of your feet or shoes, and to touch or move objects with your feet. Visitors should avoid using their left hand when greeting others, or when eating, as it is considered 'haram' (impure).
Business
Guinea is a poor country which doesn't rate highly for ease of doing business according to the World Bank, although the economic situation does seem to be gradually improving. Dress is not too formal for meetings, and a shirt and lightweight suit are acceptable for men (tie optional), whereas women should be sure to dress fairly conservatively. Guineans are, however, formal in their greetings and use of titles, and respect should be shown for age and seniority. Be sure to exchange business cards with the right hand. Meetings often do not start punctually, but arriving on time is important nonetheless.
Tipping
Tips are appreciated but not expected in Guinea. In restaurants, if no service fee has been added, 10 percent is a good rule of thumb.
Public Holidays in Guinea
Travel Guide powered by www.wordtravels.com, copyright © Globe Media Ltd. All rights reserved. By its very nature much of the information in this guide is subject to change at short notice and travellers are urged to verify information on which they're relying with the relevant authorities. Globe Media and UNIGLOBE Travel does not accept any responsibility for any loss or inconvenience to any person as a result of information contained above.