General
Money
Entry Requirements
Health & safety
Weather
Embassies
Etiquette
Public Holidays
Attractions
Map
---
Introduction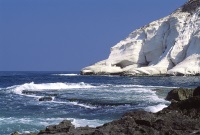 Galilee, Israel ©Itamar Grinberg
Israel is a land heavy with history, as the cradle of Judaism, Christianity and Islam alike. This cultural complexity is reflected in the diversity of its natural landscape, which varies from the salty serenity of the Dead Sea, to verdant national parks and parched desert plateaus.
Most visits to the Holy Land begin with a trip to the capital city of Jerusalem. The streets bustle with activity and busy markets line the cobbled streets against a skyline of sacred sites. The modern commercial centre of Tel Aviv is dedicated to the more hedonistic pursuits of life, that come in the form of sun-drenched beaches, good restaurants, designer clothing stores and sophisticated night clubs. Sunbathing and scuba diving are the main draw of the Red Sea port of Elat, while relaxation and spa resorts are a specialty of the Dead Sea experience. The Galilee area, north of Jerusalem, is the destination of pilgrims and nature-lovers alike. The region's concentration of holy sites is fascinating, particularly around the azure stretches of the Sea of Galilee. The cosmopolitan reaches of the Jewish-Arab city of Haifa provide a glorious base from which to explore the Galilee area, as well as the magnificent sea grottoes of Rosh Hanikra.
Israel is home to more than 200 museums - the highest number of museums per capita in the world - further underlining its status as one of the most culturally-rich destinations on the planet. Its national parks are roundly celebrated for their accessibility and beauty. Of course, the chief attractions of Israel are religious, with sites of profound spiritual importance drawing pilgrims from three religions.
Communications
The international access code for Israel is +972. The outgoing code is 00 (not from public phones) followed by the relevant country code (e.g. 0044 for the United Kingdom). There are other outgoing codes depending on which network is used to dial out on. City/area codes are in use, e.g. (0)2 for Jerusalem.
Public phones are card operated and are readily available, and instruction cards state whether to dial 012, 013 or 014 for overseas. The local mobile phone operators use GSM networks and have roaming agreements with most international operators; otherwise mobile phones can easily be rented. Internet cafes are available in the main towns and tourist areas all over Israel.
Emergencies
100 (Police); 101 (Ambulance)
Languages Spoken
Hebrew and Arabic are the official languages of Israel. Most of the population also speak English.
Duty Free
Travellers to Israel do not have to pay duty on 250 cigarettes or 250g of other tobacco products; 2 litres wine and 1 litre of other types of alcoholic beverages; 250ml of eau de cologne or perfume; 3 kg (6.6 lbs.) of food; and gifts to the value of US$150 for residents and US$125 for non-residents. Prohibited items include fresh meat and fresh fruit (especially from Africa).
Electricity
220 volts, 50Hz; European-style two-pin and round three-pin plugs are used.
Climate Info
Temperatures and weather conditions in Israel vary widely. The northern and coastal regions of Israel have a Mediterranean climate, characterised by long, hot, dry summers and short, cool and wet winters. The southern and eastern regions are arid. January is the coldest month, with temperatures ranging from 40°F to 50°F (4°C to 10°C), and August is the hottest month with temperatures ranging from 64°F to 100°F (18°C to 38°C).
The rainy season runs from October to early May but most of the rain falls between December and February. Israel can experience severe storms and flooding is not unusual in the wet season. The summer months often experience no rainfall at all. Rainfall decreases as one moves south in Israel and is not evenly distributed in the country. Israel's higher elevations, including Jerusalem, do sometimes get snow in January and February.
Israel is a year-round travel destination because many of its attractions are not weather dependant, but many travellers prefer to visit in summer, particularly if visiting the beautiful coastline. Early March is also a lovely time to visit Israel because the countryside comes briefly alive with greenery and flowers after the winter rain.
Passport
All foreign passengers to Israel must hold proof of sufficient funds to cover their stay in the country. Additionally, visitors should hold return/onward tickets, and the necessary travel documentation for their next destination. Holders of a visa category "Aliyah" are allowed to enter Israel on a one-way ticket.
Passengers intending to proceed from Israel to Arab countries other than Egypt, Jordan or the United Arab Emirates should ensure that their passport does not contain an Israeli visa or stamps, since no passenger is allowed to enter other Arab countries with such passports. Passengers who, after a three months' stay in Israel are permitted to stay for a longer period, will obtain the extension stamp in their passport - it is NOT possible to have it stamped on a separate sheet.
Note that travellers may enter Jordan directly from occupied territory, but must hold a visa for Jordan (to be obtained from a representation of Jordan abroad), otherwise entry will be refused. The Jordanian authorities will NOT permit re-cross to occupied territory. Travellers may also enter occupied territory directly from Jordan. The Israeli authorities will permit a re-cross to Jordanian territory.
NOTE: It is highly recommended that your passport has at least six months validity remaining after your intended date of departure from your travel destination. Immigration officials often apply different rules to those stated by travel agents and official sources.
Entry Requirements
US citizens must have a passport that is valid for at least six months beyond the period of intended stay in Israel. No visa is required for stays of up to three months.
British citizens must have a passport that is valid for at least six months beyond the period of intended stay in Israel. No visa is required for stays of up to three months for British passport holders, irrespective of the endorsement regarding their national status contained therein.
Canadian citizens must have a passport that is valid for at least six months beyond the period of intended stay in Israel. No visa is required for stays of up to three months.
Australian citizens must have a passport that is valid for at least six months beyond the period of intended stay in Israel. No visa is required for stays of up to three months.
South African citizens must have a passport that is valid for at least six months beyond the period of intended stay in Israel. No visa is required for stays of up to three months.
Irish citizens must have a passport that is valid for at least six months beyond the period of intended stay in Israel. No visa is required for stays of up to three months.
New Zealand citizens must have a passport that is valid for at least six months beyond the period of intended stay in Israel. No visa is required for stays of up to three months.
Health
There are no special health precautions required for travel to Israel, but insect protection from August to November is recommended due to the prevalence of the West Nile virus, which is transmitted by mosquitoes. A hepatitis A vaccine is sometimes recommended by doctors, as is a tetanus vaccine and an MMR (measles, mumps, rubella) vaccination for those who haven't already had it.
Medical facilities in Israel are excellent but treatment can be very expensive, so it is essential that travellers take out full travel health insurance. It should be possible to get all necessary medications in the cities but it is always advised that travellers who need certain medications take them along on their travels, along with the prescription and a letter from their doctor.
Safety
Check with local embassies for the latest travel advisory notices.
Travellers in Israel should maintain a high level of vigilance and keep up to date with developments. The risk of terrorist attacks remains high and travellers to the region, including Jerusalem, need to exercise caution particularly around locations specifically targeted by attacks in the past such as bars, nightclubs, markets and buses. Suicide bombers and other militants have targeted crowded public areas resulting in hundreds of deaths and injuries over the years. Although foreigners have not been specific targets, many have been caught up in the attacks because they visit famous landmarks and religious sites.
All travel to the Gaza Strip and the West Bank should be avoided. There is a continuing threat of kidnap of foreign nationals in the Gaza Strip and West Bank. The frequent outbreaks of violence in these areas makes them extremely dangerous even if tourists are not directly targeted.
Street crime is rare in Israel though, and generally only a problem in 'bad' areas. The mugging of foreigners is unusual but pick pocketing is not unheard of in busy market areas so visitors should take normal precautions against this kind of crime.
Emergency Phone Number
100 (Police); 101 (Ambulance)
* For current safety alerts, please visit
Foreign travel advice - GOV.UK
or
Travel.State.Gov
Money
Israel's currency is the Israeli Shekel (ILS), which is divided into 100 agorot (singular is agora). Money can be changed in the small exchange bureaux found on most main streets, or at banks and hotels. ATMs are prevalent throughout the country. Most banks are open Sunday through to Friday until noon, and are open again from 4pm till 6pm on Sundays, Tuesdays and Thursdays. Major credit cards are widely accepted.
Exchange Rate
Not available.
Embassies of Israel
Israeli Embassy, Washington DC, United States: +1 202 364 5500.
Israeli Embassy, London, United Kingdom: +44 20 7957 9500.
Israeli Embassy, Ottawa, Canada: +1 613-567-6450.
Israeli Embassy, Canberra, Australia: +61 2 6215 4500.
Israeli Embassy, Pretoria, South Africa: +27 12 470 3500.
Israeli Embassy, Dublin, Ireland: +353 1 230 9400.
Consulate of Israel, Wellington, New Zealand: + 64 4 439 9500.
Foreign Embassies in Israel
United States Embassy, Tel Aviv: +972 3 519 7575.
British Embassy, Tel Aviv: +972 3 725 1222.
Canadian Embassy, Tel Aviv: +972 3 636 3300.
Australian Embassy, Tel Aviv: +972 3 693 5000.
South African Embassy, Tel Aviv: +972 3 525 2566.
Irish Embassy, Tel Aviv: +972 3 696 4166.
New Zealand Embassy, Ankara,Turkey (also responsible for Israel): +90 312 446 3333.
Customers
Israel is a largely religious society and religious customs should be respected. Indecent behaviour is not tolerated and offenders will be arrested and fined heavily or imprisoned. Care should be taken not to photograph any military or police personnel or installations, and visitors should be discreet about taking photographs in Jewish Orthodox areas and of Jewish Orthodox people. It is advisable to carry official identification at all times, and to dress modestly.
Business
The majority of business in Israel is centred on Tel Aviv. Dress tends to be less formal than in the US and Europe, but business people tend to dress in suits for important meetings or presentations so formal attire is recommended. Women should dress more conservatively, especially in strictly religious areas.
Business cards are usually exchanged, though with little formality involved. Meetings often do not begin promptly and much time can be given to socialising. Business hours are usually from 8:30am to 5pm, from Sunday to Thursday, and on Friday mornings. Sundays are regarded as a normal business day.
Tipping
Tipping is expected in Israel, according to the level of service (unless a service charge is added to the bill). About 10-15 percent is customary.
Public Holidays in Israel
| | | |
| --- | --- | --- |
| | 2017 | 2018 |
| Purim (Jerusalem) | 13 Mar | 2 Mar |
| First Day of Pesach (Passover) | 11 Apr | 31 Mar |
| Yom HaAtzmaut (Israel Independence Day) | 2 May | 19 Apr |
| Shavuot (Pentecost) | 31 May | 20 May |
| Rosh Hashana (New Year) | 21 Sep | 10 Sep |
| First Day of Sukkot (Feast of Tabernacles) | 5 Oct | 24 Sep |
| Simchat Torah | 12 Oct | 1 Oct |
| Purim (Tel-Aviv) | 12 Mar | 1 Mar |
| Last Day of Pesach (Passover) | 17 Apr | 6 Apr |
| Yom Kippur | 30 Sep | 19 Sep |
Overview
As the birthplace of Christianity, Judaism and Islam, Israel is densely packed with enough religious and historical attractions and experiences to last a lifetime.
For lovers of sun, sand and sea, head to the renowned Red Sea and enjoy floating in its crystalline waters; or for a rejuvenating experience, visit one of the many Dead Sea spa resorts. While you're in the area, head to Israel's popular tourist destination of Masada, located in the Judean Desert.
Some of the country's most fascinating attractions include the Church of the Holy Sepulchre and the Citadel of David. Bethlehem is worth a visit, as is Nazareth - two of the most important Christian holy sites where Jesus was born and spent most of his life - while Yad VaShem is a moving and interesting memorial to the Holocaust, providing a multifaceted tribute to the millions of Jews who died during World War II.
The best time of year to visit is during the spring (March/April) and autumn months (September/October), when the weather is cooler and more tolerable for tourists. Since travelling distances are not great in Israel, it's often almost quicker to drive to some places than to catch a plane. There are good public transport systems in place in the major cities. The best way to experience Israel is to hire a car and take a relaxed approach to seeing the country and exploring all the religious and historical sites it has to offer.
Map of Israel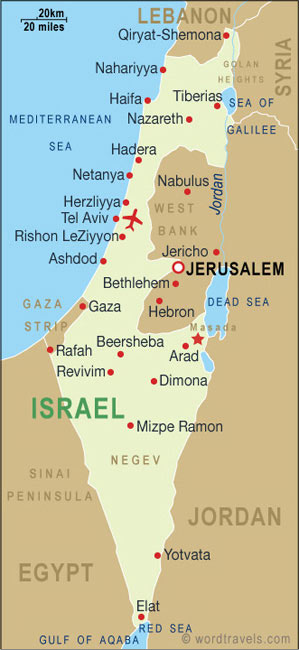 Travel Guide powered by www.wordtravels.com, copyright © Globe Media Ltd. All rights reserved. By its very nature much of the information in this guide is subject to change at short notice and travellers are urged to verify information on which they're relying with the relevant authorities. Globe Media and UNIGLOBE Travel does not accept any responsibility for any loss or inconvenience to any person as a result of information contained above.