General
Money
Entry Requirements
Health & safety
Weather
Embassies
Etiquette
Public Holidays
Attractions
Map
---
Introduction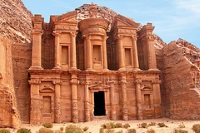 Situated between Israel, Iraq and Saudi Arabia, the Kingdom of Jordan is unexpectedly peaceful amid the turmoil of its neighbours and is a wonderful place to visit, made more so by its hospitable people who readily welcome travellers. With a reputation for being one of the friendliest countries, it is sad that so few people explore its rich history, with two of the most magnificent sights in the Middle East: the ancient city of Petra and Wadi Rum's spectacular desert scenery.
Jordan is a kingdom layered in antiquity, from the work of Nabataean stonemasons to characters such as Moses and Lawrence of Arabia; from ancient cities and Biblical sites to desert castles, Crusader forts and Byzantine mosaics. This ancient culture belies the fact that it is also a modern country, with a good infrastructure, a thriving business and arts scene, and first class hotels, restaurants and shopping opportunities. The contradictions between the old and new are astonishing.
Jordan is a relatively small country of varied landscapes, where the fertile Jordan Valley, bordering the entire western side of the kingdom, is separated from the immense desert stretching to the east by the populated highlands. As part of the Great Rift Valley, the Jordan Valley incorporates the Dead Sea, the lowest point on the earth's surface and most famous for its heavy salt and mineral concentrations, while the main towns are strung out along the length of the highland plateau, including the friendly capital, Amman, as well as plenty of historical sites from ancient civilisations.
Home to breathtaking desert-scapes, colourful coral reefs that are unequalled anywhere else in the world, and sweeping vistas towards the Promised Land, Jordan is full of charismatic beauty, both in scenery and in the genuine Arabic welcome afforded to strangers. Welcome to Jordan…
Communications
The international dialling code for Jordan is +962. The outgoing code is 00 followed by the relevant country code (e.g. 0044 for the UK). Jordan has international direct dialling with most countries. City/area codes are in use, e.g. (0)3 for both Aqaba and Petra, and (0)6 for Amman. Mobile phone companies have roaming agreements with most international mobile phone operators. There are internet cafes in Amman and most major towns.
Emergencies
911 (General emergencies); 191 (Police); 199 (Ambulance)
Languages Spoken
Arabic is the official language, but English is understood by most people involved in the tourist industry and by middle to upper class Jordanians.
Duty Free
Travellers to Jordan over 18 years do not have to pay duty on 200 cigarettes or 25 cigars, or 200 grams of pipe tobacco; 1 litre of alcohol, 1 or 2 bottles of perfume and eau-de-Cologne or lotion for personal use; and gifts to the value of JD50 or US$150. Restricted items include firearms, sporting guns and other weapons without prior approval from authorities of country of origin and destination country. Prohibited items include all narcotics and birds or bird products.
Electricity
Electrical current is 220 volts, 50Hz. European two-pin plugs are most common, though occasionally UK flat three-pin plugs are used.
Climate Info
July and August are the hottest and driest months of the year, especially in Amman and the Jordan Valley, and in the desert areas, with temperatures over 97°F (36°C). Spring and autumn are the most pleasant times to visit with clear, sunny days and moderate temperatures. The winter months from December to March can be very cold, particularly in Amman, with snow, rain and wind, but there is little rainfall in the desert regions and in Aqaba, which makes a pleasant wintertime resort. About 75 percent of the country can be described as having a desert climate with very little annual rainfall.
Passport
All foreign passengers to Jordan must hold return/onward tickets, and the necessary travel documentation for their next destination. Furthermore, most nationalities require a visa to enter Jordan, which can be obtained on arrival, if arriving by air. A single-entry visa costs JOD 40, and is valid for two months; a JOD 60 visa is valid for 3 months and two entries; a JOD 120 visa is valid for 6 months and multiple entries. Note that the fee is payable in Jordanian Dinars only. This fee may be waived for registered tour groups of more than five people. NOTE: It is highly recommended that your passport has at least six months validity remaining after your intended date of departure from your travel destination. Immigration officials often apply different rules to those stated by travel agents and official sources.
Entry Requirements
US citizens must have a passport that is valid for at least six months beyond the date of their arrival in Jordan. A visa is required, and can be obtained on arrival.
British citizens must have a passport that is valid for at least six months beyond the date of their arrival in Jordan. A visa is required, and can be obtained on arrival.
Canadian citizens must have a passport that is valid for at least six months beyond the date of their arrival in Jordan. A visa is required, and can be obtained on arrival.
Australian citizens must have a passport that is valid for at least six months beyond the date of their arrival in Jordan. A visa is required, and can be obtained on arrival.
South African citizens must have a passport that is valid for at least six months beyond the date of their arrival in Jordan. A visa is required, and can be obtained on arrival.
Irish citizens must have a passport that is valid for at least six months beyond the date of their arrival in Jordan. A visa is required, and can be obtained on arrival.
New Zealand citizens must have a passport that is valid for at least six months beyond the date of their arrival in Jordan. A visa is required, and can be obtained on arrival.
Health
Inoculations are not required unless travelling from an area infected with yellow fever, in which case a certificate will be requested on arrival. Although not necessary, it is recommended that a vaccination for typhoid be had before travel to Jordan, except for short-term business travellers who restrict their meals to major restaurants and hotels. It is advisable to drink bottled water, which is cheap and widely available, although better hotels have their own water filtering systems. Medical services are good throughout the country with clinics, hospitals and medical centres in every city or village, and many doctors in the larger towns or cities speak English. Most hospitals are privately owned. Travellers should carry their own prescription medicines and medical insurance is recommended.
Safety
The vast majority of tourist visits to Jordan are safe and trouble free. However there remains a moderate risk of terrorist attacks throughout the Middle East including Jordan and foreigners should maintain a degree of vigilance particularly in public places frequented by tourists and at tourist sites. The situation in Iraq has had an impact on local opinion, as well as the violence between the neighbouring Israelis and Palestinians, and foreigners should avoid all public demonstrations and political gatherings. There is a fair degree of anti-American and anti-Western sentiment in the country, and no distinction is made between US government personnel and ordinary citizens. Care should be taken at the borders with Israel and Iraq. Crime is not a serious risk for travellers although on buses and in crowded places visitors could be the target of pickpockets or petty thieves.
Emergency Phone Number
911 (General emergencies); 191 (Police); 199 (Ambulance)
* For current safety alerts, please visit
Foreign travel advice - GOV.UK
or
Travel.State.Gov
Money
The official currency is the Dinar (JOD), which is divided into 10 dirhams, 100 piastres or 1,000 fulus. Foreign currency can be changed at any bank or moneychanger. Banks are closed on Fridays. Better hotels will also exchange money. American Express, Visa, MasterCard and Diners Club are the most widely accepted credit cards and can be used at major hotels, restaurants and tourist shops; cash can be withdrawn from inside banks. ATMs are available, though acceptance of foreign cards is limited.
Exchange Rate
Not available.
Embassies of Jordan
Embassy of Jordan, Washington DC, United States: +1 202 966 2664.
Embassy of Jordan, London, United Kingdom (also responsible for Ireland): +44 (0)20 7937 3685.
Embassy of Jordan, Ottawa, Canada: +1 613 238 8090.
Embassy of Jordan, Canberra, Australia (also responsible for New Zealand): +61 (0)2 6295 9951.
Embassy of Jordan, Pretoria, South Africa: +27 (0)12 346 8615.
Foreign Embassies in Jordan
United States Embassy, Amman: +962 (0)6 590 6000.
British Embassy, Amman: +962 (0)6 590 9200.
Canadian Embassy, Amman: +962 (0)6 520 3300.
Australian Embassy, Amman: +962 (0)6 580 7000.
South African Embassy, Amman: +962 (0)6 592 1194.
Irish Honourary Consulate, Amman: +962 (0)6 553 3616.
New Zealand Consulate, Ankara, Turkey (also responsible for Jordan): +90 312 446 3333.
Customers
The consumption of alcohol is strictly forbidden in the streets. It is advisable to respect local Muslim conservatism regarding dress and women in particular will be better respected if their legs and shoulders are covered in public places. It is advisable to ask permission before photographing people. Bargaining is expected with merchants especially in the markets. Religious customs should be respected, particularly during the month of Ramadan when eating, drinking and smoking during daylight hours should be discreet as it is forbidden by the Muslim culture. Homosexuality is illegal. Bedouin hospitality is genuine, but custom requires that visitors should leave some small gift in return for a meal or a glass of tea.
Business
Business in Jordan is conducted with an emphasis on modest, formal attire. Women, in particular, should be sure to dress conservatively. As with most Arab countries, business is very male-dominated and therefore women should clarify their role early in meetings. Meetings often start very late, but it is always advised to be punctual nonetheless. Most business is conducted in English, although using a few words of Arabic (particularly for titles) will be appreciated. Business cards are often exchanged. It is common to be invited for meals by one's host, who will usually pay the bill, although it is appreciated if the guest pays for the final meal or gives a small gift. Business hours are usually 9.30am to 1.30pm and 3.30pm to 6pm Sunday to Thursday.
Tipping
Most of the better hotels and restaurants will add a 10 percent service charge to the bill, but smaller establishments usually expect a tip. It is customary to round up the price of a taxi trip instead of tipping.
Public Holidays in Jordan
| | | |
| --- | --- | --- |
| | 2017 | 2018 |
| New Years Day | 1 Jan | 1 Jan |
| Labour Day | 1 May | 1 May |
| Independence Day | 25 May | 25 May |
| Eid-al-Fitr | 26 Jun | 15 Jun |
| Eid-al-Adha | 2 Sep | 22 Aug |
| Islamic New Year | 22 Sep | 12 Sep |
| Christmas Day | 25 Dec | 25 Dec |
| Orthodox Easter Day (Popular Observance) | 16 Apr | 8 Apr |
| Muhammads Birthday | 1 Dec | 21 Nov |
Overview
Like much else in Jordan, the variety and quality of sightseeing opportunities will take visitors by surprise if they haven't done their homework, as there is far more to see than just desert landscapes, although these are just as breathtakingly beautiful as any other in the world. Jordan gives travellers a great way to see the Middle East in a safe environment, considering its hostile neighbours, and everything one wants out of a desert adventure can be found here. Jordan is on friendly terms with everyone that surrounds them, making it the safest destination to travel to in the Middle East, all while serving up fantastic sights such as the ancient and wonderful city of Petra, which is certainly a must see while in Jordan.
Beyond Petra, there are many other fascinating desert cities, castles and fortresses to be explored, many of which can easily be accessed from the capital of Amman or from the lively city of Aqaba. Visitors can opt to take these excursions by local taxi, hired car, 4x4 or do it in style, atop a camel, as native Jordanians have done for centuries. But Jordan is not all desert, sand and camels, there are also great opportunities for visitors to get there feet wet in either the Dead Sea or the Red Sea. While the Red Sea (situated at the very southernmost tip of Jordan) offers up a fantastic chance to swim and scuba in crystal clear waters, harbouring some of the most spectacular coral reefs in the world, the Deas Sea experience is something totally different, as the lowest point on earth, allowing swimmers to float weightlessly in its extremely salty waters.
Map of Jordan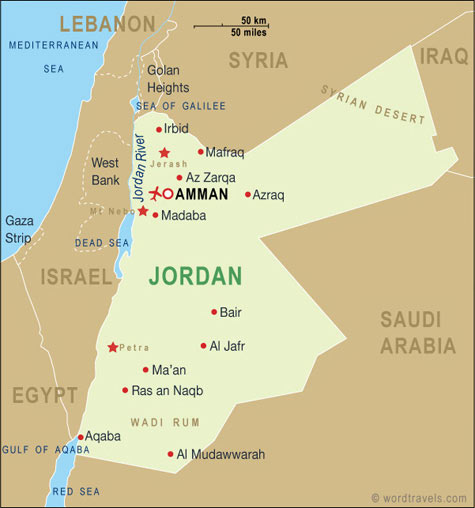 Travel Guide powered by www.wordtravels.com, copyright © Globe Media Ltd. All rights reserved. By its very nature much of the information in this guide is subject to change at short notice and travellers are urged to verify information on which they're relying with the relevant authorities. Globe Media and UNIGLOBE Travel does not accept any responsibility for any loss or inconvenience to any person as a result of information contained above.