General
Money
Entry Requirements
Health & safety
Weather
Embassies
Etiquette
Public Holidays
Attractions
Map
---
Introduction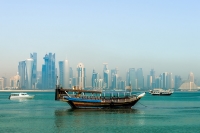 Doha skyline ©Francisco Anzola
The stark desert peninsula of Qatar extends into the Persian Gulf, bordered on the landward end by Saudi Arabia and the United Arab Emirates. Its area may be small, but the independent emirate is exceedingly wealthy, with one of the highest per capita incomes in the world, thanks to its oil and gas resources.
Whether visiting Qatar for business or pleasure, most travellers use the stylish capital, Doha, as their base. Formerly a quaint and busy pearl fishing village, Doha is today one of the most important cities in the Middle East due mainly to its power as a major trading centre. It has a large British and American expatriate population (the Al Udeid air base was headquarters for the US invasion of Iraq in 2003), which has moulded the city into an interesting blend of eastern and western culture and architecture.
Tourists tend to spend their time on the Doha Corniche, a palm-fringed public promenade that extends for four miles (7km) along the seafront, lined with five and six-star resort hotels, restaurants, shops, beaches and recreational areas. Although there is some adventure to be found in the glittering sands beyond Doha, the biggest draw card of Qatar for visitors is shopping, whether it is in the exotic traditional markets ( ) or the plethora of massive ultra-modern malls that fill the city centre. In addition to this impressive retail offering Doha is fast becoming a sought after destination for foodies, with a sophisticated fine-dining scene.
Those wanting to explore outside the city can undertake excursions to interesting little towns, fishing villages, beautiful beaches, camel racing events, luxury resorts and the Al Maha Sanctuary at Shahaniya, where the near-extinct Arabian Oryx is being protected. The Oryx is thought to be the origin of the legend of the unicorn, and is Qatar's national symbol, flying high on the tails of Qatar Airways jetliners.
Whether it is learning to haggle at the , fine-tuning your dune driving skills, relaxing on the beach, or marvelling at the wonders of the Arabian world in one of the many museums, Qatar has something for every traveller. The country is a shopper's dream, while business travellers will find it equally exciting as Doha is fast making its mark as a regional business hub.
Note: Qatar is currently in the middle of a diplomatic crisis with the other members of the GCC. Led by Saudi Arabia, these members have severed all diplomatic relations, resulting in Qatar airways being restricted to certain flight routes and the country being hit by sanctions.
Communications
The international access code for Qatar is +974. The country is well covered by GSM and 3G mobile phone networks, and there are roaming agreements with most international operators. Internet cafes are available in Doha.
Emergencies
Emergencies: 999.
Languages Spoken
Arabic is the official language, but English is widely spoken.
Duty Free
Travellers to Qatar do not have to pay duty on tobacco products and perfume for personal use. Alcohol may not be imported under any circumstances. Prohibited items include wild birds, without an import authorisation from Ministry of Agriculture and Municipal Affairs (MMAA). Travellers are also prohibited from importing pork-related products and pornographic or sexually explicit material.
Electricity
Electrical current is 220 to 240 volts, 50Hz. Round pin plugs with grounding as well as rectangular blade plugs are in use.
Climate Info
Qatar has a dry, subtropical desert climate. The sun shines virtually every day and rainfall is almost non-existent, averaging about three inches (80mm) a year, and this falling only in winter. Summers (June to September) are sizzling hot by day, and warm at night, with temperatures often hitting 104°F (40°C) or above. Winters are only slightly cooler by day, but can be very chilly at night. The best time to visit Qatar is between October and April, when daytime temperatures are bearable, and there is little threat of sand storms.
Passport
Visitors should have tickets and documents for return or onward travel and sufficient funds to cover their stay. If on a tourist visa, visitors should have proof of confirmed hotel reservation and a minimum of USD 1,400 or a credit card. If holding a visa for Oman an additional visa for Qatar is not required (however, travellers are not allowed to depart to a third country). All visitors staying in Qatar for more than one month need to obtain a Residence Permit after arrival. The government of Qatar does not accept temporary passports. It is highly recommended that passports have at least six months validity remaining after your intended date of departure from your travel destination. Immigration officials often apply different rules to those stated by travel agents and official sources.
Entry Requirements
United States citizens with a passport valid for three months beyond date of arrival may obtain a visa on arrival, allowing for a one-month stay, for a fee of between QAR 50 and QAR 150.
British passport holders whose passports are endorsed British Citizen may obtain a visa on arrival, allowing for a one-month stay, for a fee of between QAR 50 and QAR 150, provided they have three months validity on their passports. Holders of British passports with any other endorsements are advised to check on entry requirements for Qatar.
Canadian citizens with a passport valid for three months beyond date of arrival may obtain a visa on arrival, allowing for a one-month stay, for a fee of between QAR 50 and QAR 150.
Australians with a passport valid for three months beyond date of arrival may obtain a visa on arrival, allowing for a one-month stay, for a fee of between QAR 50 and QAR 150.
South Africans require a valid passport and a visa to enter Qatar.
Irish citizens with a passport valid for three months beyond date of arrival may obtain a visa on arrival, allowing for a one-month stay, for a fee of between QAR 50 and QAR 150.
New Zealanders with a passport valid for three months beyond date of arrival may obtain a visa on arrival, allowing for a one-month stay, for a fee of between QAR 50 and QAR 150.
Health
No vaccinations are required for entry to Qatar, but it is recommended that visitors be up to date with routine vaccinations like MMR (measles, mumps, rubella) and tetanus-diphtheria. Vaccinations are also recommended for hepatitis A and hepatitis B. Modern medical care and medicine is available in the big cities and medical care is usually of a high standard in Doha. Doctors and hospitals generally expect immediate cash payment for medical services, and treatment is expensive; it is advisable for travellers to hold comprehensive medical insurance.
Safety
Safety in Qatar is generally not an issue but the country, like most in the Gulf Region, is rated as being under high threat of indiscriminate terrorist attacks against western interests. Visitors should therefore be vigilant in public places. There is a low incidence of crime, but women are advised to take care when travelling alone at night.
Emergency Phone Number
Emergencies: 999.
* For current safety alerts, please visit
Foreign travel advice - GOV.UK
or
Travel.State.Gov
Money
The official currency is the Qatari Riyal (QAR), which divides into 100 dirhams. Money can be exchanged at banks, the airport and exchange dealers. The main bank branches are on Grand Hamad Street in Doha. Banks are open Saturday to Thursday 8am to 1pm and some are open into the evening. ATMs are available on the main streets of the cities and towns, at banks and in shopping malls. Most shops, hotels and restaurants accept international credit cards.
Exchange Rate
Not available.
Embassies of Qatar
Embassy of Qatar, Washington DC, United States: +1 202 274 1600.
Embassy of Qatar, London, United Kingdom (also responsible for Ireland): +44 (0)20 7493 2200.
Embassy of Qatar, Ottawa, Canada: +16 13 241 4917.
Embassy of Qatar, Tokyo, Japan (responsible for Australia): +81 (3) 5475 0611.
Embassy of Qatar, Pretoria, South Africa: +27 (0)12 452 1700.
Embassy of Qatar, Tokyo, Japan (responsible for New Zealand): +81 (3) 5475 0611.
Foreign Embassies in Qatar
United States Embassy, Doha: +974 4496 6000.
British Embassy, Doha: +974 4496 2000.
Canadian Embassy, Doha, Qatar: +974 4419 9000.
Australian Embassy in Abu Dhabi, United Arab Emirates (also responsible for Qatar): +971 (02) 401 7500.
South African Embassy, Doha: +974 4485 7111.
Irish Embassy, Abu Dhabi (also responisible for Qatar): +971 (0)2 495 8200.
New Zealand Embassy, Abu Dhabi (also responsible for Qatar): +971 2 441 1222.
Customers
Qatar is an Islamic state, which prohibits drinking alcohol in public other than at licensed hotel restaurants and bars. Religious customs should be respected, particularly during the month of Ramadan when eating, drinking and smoking in public are forbidden by Muslim Law. Intimacy between men and women in public can lead to arrest, and homosexuality is illegal. Visitors should dress modestly and respect local customs. Women should cover their shoulders and avoid wearing shorts or short skirts. The right hand should be used for everything, including eating and the giving and receiving of things, as the left is considered unclean. The import of pornographic material, non-Islamic religious material, alcohol or pork products is strictly prohibited.
Business
Since a large portion of Qatar's population is comprised of foreign nationals, you might find yourself dealing exclusively with other expats, in a corporate milieu that you are familiar with. However, the following advice pertains to Arabic business culture, to help prepare westerners for that eventuality. It is important to bear in mind that Qatar is an Islamic country and that visitors should always remain sensitive and respectful of the large influence that these religious beliefs have on ordinary social life.
The business culture of Qatar can be described as 'typically Arabic', in that a great emphasis is placed on personal relationships between business associates: Qatari businessmen prefer to do business with people they are familiar with, and who they feel they can trust. For this reason, you will probably be required to engage the services of a local agent (or sponsor) in Qatar, who'll be able to provide you with important introductions and recommendations. The start of a professional relationship will often be dedicated to getting to know each other and business itself may be slow to start. Don't get impatient: long-term, personal business relationships in Qatar are certainly worth the investment of your time and energy.
The management style that predominates in Qatar is strictly hierarchical. Decisions are made at the top level, and clear, direct instructions are given to staff, who are expected to follow them to the letter. Note that it is unusual to hear the word 'no' outright in Qatar - a more polite, indirect method of refusal is usually preferred. Business etiquette in Qatar reflects the close relationship between personal and professional life mentioned above despite the hierarchical structures. Use Arabic titles where appropriate, such as Haji and Sheikh, to indicate your respect for your associates. Make sure that when discussing business, you can deliver everything you promise - verbal commitments are treated as solemnly as written contracts in Qatar.
Business meetings in Qatar will most likely be lengthy, and subject to numerous personal digressions, and perhaps even unexpected visitors. It is important to remain patient, even if the meeting's agenda is abandoned - do not resort to hard-sell tactics, as this may well be interpreted as aggression. Do not publicly criticise or undermine any associates - if you feel the need to say something, do it in private. It is common to exchange business cards when meeting new associates for the first time. Make sure your details are printed in Arabic on the reverse side of your card, and always spend a little time regarding someone else's card before putting it away. Business dress is smart, formal and conservative - especially for women, who must take care not to wear anything too revealing. The official language of Qatar is Arabic, though English is widely spoken and widely understood in the business world. Business hours are generally 7.30am (or 8am) to about 6pm. Friday is a day of rest and most companies will also give either Thursday or Saturday off - international companies tend to favour closure on Saturday.
Tipping
A service charge of 10 percent is usually added to hotel and restaurant bills in Qatar, in which case tipping is not necessary, although for exceptional service many people add a bit extra. If there is no service charge a 10 to 15 percent tip is appreciated. Taxi drivers do not expect a tip, but it is polite to round up the fare.
Public Holidays in Qatar
| | | |
| --- | --- | --- |
| | 2017 | 2018 |
| Eid al-Fitr (end of Ramadan) | 26 Jun | 15 Jun |
| National Day | 18 Dec | 18 Dec |
| Eid al-Adha (Feast of the Sacrifice) | 1 Sep | 20 Aug |
| Sport Day | 14 Feb | 13 Feb |
Map of Qatar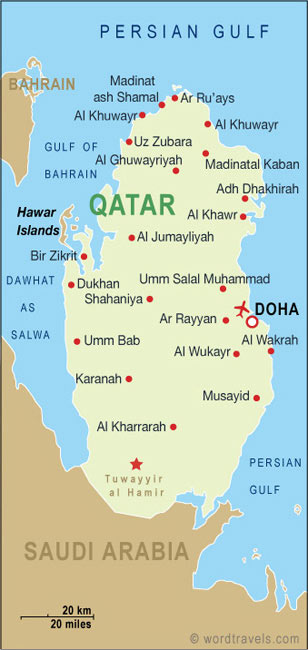 Travel Guide powered by www.wordtravels.com, copyright © Globe Media Ltd. All rights reserved. By its very nature much of the information in this guide is subject to change at short notice and travellers are urged to verify information on which they're relying with the relevant authorities. Globe Media and UNIGLOBE Travel does not accept any responsibility for any loss or inconvenience to any person as a result of information contained above.