General
Money
Entry Requirements
Health & safety
Weather
Embassies
Etiquette
Public Holidays
Attractions
Map
---
Introduction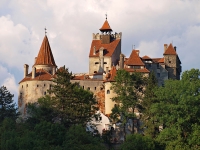 Romania's Bran Castle ©Todor Bozhinov
Romania is a surprising and mesmerising destination; with seven UNESCO-listed monuments, magnificent landscapes, as well as a vivid culture, Romania will leave visitors wanting more.
The country has slowly emerged from the effects of being one of the most repressed countries under communism, but it is rapidly regaining its identity as a popular tourist destination and has plenty to offer the international traveller. Exploring Romania is certainly rewarding, with the place names alone evoking a certain charm - who could resist finding out more about mysterious Transylvania, so often the literary home of mythical monsters.
The country's geography is diverse: from mountains, rolling hills and rural farmlands to white sandy beaches and resorts along the Black Sea Coast. Dotting the natural landscape are rustic villages where local people live much as they have done for the past 100 years. There is an abundance of religious architecture - including the exquisitely painted monasteries of Bucovina - and there are ancient churches and cities bursting with historic buildings. The capital city, Bucharest, is re-inventing itself and its damaged architecture is slowly being restored to its original glory. It has elegant restaurants, a revitalised nightlife and cultural attractions that are becoming integral to its new image.
A visit to Romania will leave few impassive, offering a refreshingly different culture to elsewhere in Europe. The mix of quaint medieval towns and castles, drab cities striving for Western modernism, and the diverse rural landscape seemingly untouched by modern history, offers a fascinating kaleidoscope. Romania appeals to visitors because it is so different: it has one foot firmly placed in the past while the other one is stretching forward in an effort to keep up with the progress of the modern world.
Communications
The direct dialling country code for Romania is +40, and the outgoing code is 00, followed by the relevant country code (e.g. 0044 for the UK). There are numerous area codes applying to cities, towns and villages, for example (0)21 for Bucharest. The country is well covered with GSM 900/1800 and 3G mobile phone networks. Internet cafes are available in cities and larger towns.
Emergencies
Emergencies: 112.
Languages Spoken
Romanian is the official language, but English will be understood in Bucharest and other tourist areas.
Duty Free
Travellers to Romania do not have to pay duty on either 200 cigarettes, 40 cigars or 200g of tobacco. 2 litres of liquor, 4 litres of beer or wine and gifts to the value of US$1000 are also duty free. Valuable goods, such as jewellery, art, electrical items and foreign currency should be declared on entry.
Electricity
Electrical current is 230 volts, 50Hz. Two-pin European-style plugs are standard.
Climate Info
Romania has a temperate climate with four distinct seasons. Spring and autumn are cool and pleasant, making May and June, and September and October the best months to visit. Summers are hot from July to August and winters are harsh and very cold between December and March, with snow falling throughout most of the country. Spring and summer are the wettest seasons, but rain can be expected throughout the year.
Passport
Visitors must hold all documents required for further travel, onward or return tickets, sufficient funds for the period of stay, and proof of reserved accommodation. It is highly recommended that passports have at least six months validity remaining after your intended date of departure from your travel destination. Immigration officials often apply different rules to those stated by travel agents and official sources.
Entry Requirements
United States nationals require a passport valid for three months beyond period of intended stay, but no visa for stays of up to 90 days.
UK nationals with passports endorsed 'British Citizen' require passports valid for period of intended stay, but no visa. British passports with other endorsements require either validity for period of intended stay, or three months validity beyond period of travel; all British passport holders are entitled to visits of at least 90 days visa-free. UK nationals who are not British citizens are advised to check the specific requirements applicable to their status.
Canadian nationals require a passport valid for three months beyond period of intended stay, but no visa for stays of up to 90 days.
Australian nationals require a passport valid for three months beyond period of intended stay, but no visa for stays of up to 90 days.
South Africans require a passport valid for three months beyond period of intended stay and a visa to enter Romania. Holders of a valid Schengen visa, or holders of a short stay visa issued by Bulgaria, Croatia or Cyprus do not require a visa to enter Romania for a stay of up 90 days. South African temporary passports are not accepted by the Romanian government.
Irish nationals require a passport valid for period of intended stay, but no visa for a stay of up to 90 days.
New Zealand nationals require a passport valid for three months beyond period of intended stay, but no visa for stays of up to 90 days.
Health
Medical facilities in Bucharest are good, but poor in the smaller towns and basic medical supplies are often in short supply. There is a reciprocal health agreement with the UK and most EU countries, whose citizens are entitled to free or low-cost emergency medical treatment on presentation of a European Health Insurance Card (EHIC), but travel health insurance is strongly advised. There have been a number of Hepatitis A cases in Romania and visitors are advised to seek medical advice about inoculations before travelling. Tap water is safe to drink, although bottled water is widely available. Stray dogs carry rabies and should be avoided.
Safety
Visitors should take normal safety precautions in Romania; keep valuables safe and be aware of pickpockets and scam artists in major cities. Corruption is rife and visitors should be cautious of policemen demanding fines for spurious offences, or asking to see documents as a way of stealing cash; if approached in this way visitors should offer to go with them to the nearest police station before handing over any money or documents. Valuables, including passports, should not be left in hotel rooms, or near the window of a hotel room when you are there.
Emergency Phone Number
Emergencies: 112.
* For current safety alerts, please visit
Foreign travel advice - GOV.UK
or
Travel.State.Gov
Money
The Leu (RON) is the official currency, which is divided into 100 bani. Money can be exchanged at banks, international airports, hotels or authorised exchange offices (casa de schimb or birou de schimb valutar). ATMs are available at large banks, airports and shopping centres in cities. American Express, MasterCard and Visa are accepted in the main cities. It is recommended to travel with some cash in case of difficulty using credit cards.
Exchange Rate
Not available.
Embassies of Romania
Embassy of Romania, Washington DC: +1 202 332 4846.
Embassy of Romania, London, United Kingdom: +44 (0)20 7937 9666.
Embassy of Romania, Ottawa, Canada: +1 613 789 3709.
Embassy of Romania, Canberra, Australia: +61 (0)2 6286 2343.
Embassy of Romania, Pretoria, South Africa: +27 (0)12 460 6941.
Embassy of Romania, Dublin, Ireland: +353 (0)1 668 1085.
Consulate of Romania, Wellington, New Zealand: +64 (0)4 476 6883.
Foreign Embassies in Romania
United States Embassy, Bucharest: +40 (0)21 200 3300.
British Embassy, Bucharest: +40 (0)21 201 7200.
Canadian Embassy, Bucharest: +40 (0)21 307 5000.
Australian Embassy, Belgrade, Serbia (also responsible for Romania): +381 (11) 330 3400.
South African Embassy, Bucharest: +40 (0)21 313 3725.
Irish Embassy, Bucharest: +40 (0)21 310 2131.
New Zealand Embassy, Brussels, Belgium (also responsible for Romania): +32 (0)2 550 1221.
Customers
Homosexuality, although legal, is frowned upon. A small and still largely closeted gay scene exists in the Romania's largest cities, particularly in Bucharest, which has a few gay clubs. Photography at airports is forbidden.
Business
Business can be quite bureaucratic and old-fashioned. The country adheres to an imbedded hierarchical structure and often it is the eldest who receive the most respect in business and social meetings. It is important to address each person according to their title followed by their surname; 'Domnul' for Mr. and 'Doamna' for Mrs. Romanians prefer a face-to-face approach and like to strengthen personal relationships. Appointments should be made in advance and confirmed. Although the visitor is expected to be punctual the host may be late to arrive. Meetings are often quite formal and a general 'Western' set of old-world manners applies. Business suits are appropriate for meetings. Romanians dislike an overt display of achievement or exaggerated conversation. Business hours are generally 9pm to 5pm Monday to Friday with an hour taken at lunch.
Tipping
Tipping is becoming increasingly common in Romania, and is now expected in all restaurants and bars. A service charge is often included in restaurant bills but a further 5 to 10 percent tip is expected. Though it is not always necessary to tip them, taxi drivers can be rewarded for good service.
Public Holidays in Romania
| | | |
| --- | --- | --- |
| | 2016 | 2017 |
| New Years Holiday | 1 Jan | 1 Jan |
| Orthodox Easter | 16 Apr | 8 Apr |
| Labour Day | 1 May | 1 May |
| Orthodox Pentecost | 4 Jun | 27 May |
| Sfanta Maria (Assumption of the Virgin Mary) | 15 Aug | 15 Aug |
| St Andrew Day | 30 Nov | 30 Nov |
| National Day | 1 Dec | 1 Dec |
| Christmas Day | 25 Dec | 25 Dec |
| Boxing Day | 26 Dec | 26 Dec |
| Unification Day | 24 Jan | 24 Jan |
Overview
Romania has myriad sightseeing attractions on offer. Visitors can marvel at the many medieval villages and castles throughout the country, such as Brasov or Bran Castle, visit the museums or feast their eyes on the brilliant old architecture of the cities.
Bucharest's National History Museum is certainly a must when in the capital, and for those who admire architecture as well as history, a trip to the Stavropoleos Church and Monastery, as well as the Palace of Parliament, will keep visitors enthralled for hours. Tourists should definitely include a visit to the Village Museum on their list of things to do in Romania. The museum offers visitors a walk back in time with the multitude of open-air exhibits on display.
Romania also has a number of festivals and events happening throughout the year, which are always full of fun and festivity, and offer visitors the opportunity to experience local culture at its best. Visitors can also choose to step back into the Middle Ages at the Sighisoara Medieval Festival or watch some of the top local and international films at the Bucharest International Film Festival. For serious music-lovers the Europafest, Bucharest's main cultural event, attracts artists, performers and festival goers from across the globe to the capital for a few nights of fun and good music.
Finally a trip to Romania would not be complete without a visit to the beautiful UNESCO Heritage sight of the Painted Monasteries.
Map of Romania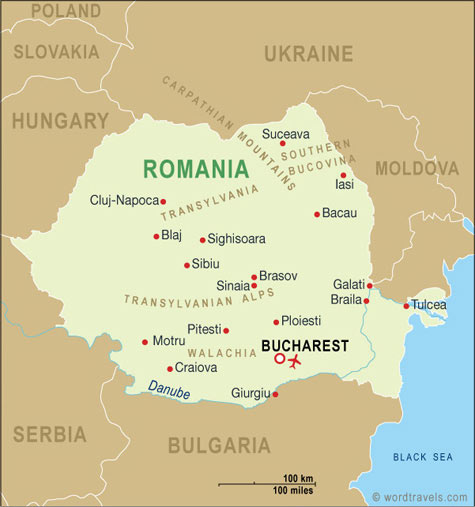 Travel Guide powered by www.wordtravels.com, copyright © Globe Media Ltd. All rights reserved. By its very nature much of the information in this guide is subject to change at short notice and travellers are urged to verify information on which they're relying with the relevant authorities. Globe Media and UNIGLOBE Travel does not accept any responsibility for any loss or inconvenience to any person as a result of information contained above.