General
Money
Entry Requirements
Health & safety
Weather
Embassies
Etiquette
Public Holidays
Attractions
Map
---
Introduction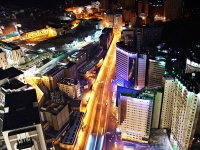 Makkah (Mecca), Saudi Arabia ©Basil D Soufi
The Kingdom of Saudi Arabia receives hundreds of thousands of visitors each year, but few enter as tourists. This conservative country connecting Africa and mainland Asia contains the spiritual centre of the Islamic world, Mecca, and the sacred city of Medina, so most of the visitors are pilgrims, permitted on special religious visas.
Others come to this oil-rich nation on sponsored business trips, generally finding little time or facility for leisure and pleasure. Saudi Arabia is intent on keeping its traditions, culture and religious heritage away from prying western eyes. Its cities, however, are not backwaters but modern and bustling centres which can be enjoyed by those who visit the country. The Royal capital, Riyadh, for example offers a lot to see and explore. The historical city of Jeddah is also a popular spot where people can enjoy a unique seaside experience alongside the locals who often frequent it for a break-away. If looking for leisure, with the right amount of research, it can be found in Saudi Arabia.
Occupying most of the Arabian Peninsula, and bordered by no fewer than eight Middle-Eastern states, Saudi Arabia manages its highly-controlled religious society alongside the onslaught of its progressive oil-boom industry. It must be noted that the kingdom's strategic position both geographically and culturally at the centre of the Arab world has made it a potentially very unsafe place for westerners, and those who do visit are advised to plan thoroughly and be fully informed. If informed, Saudi Arabia can make for a memorable, cultural and unique holiday experience.
Communications
The international dialling code for Saudi Arabia is +966. Mobile telephone coverage is extensive, even in remote parts of the country. Internet facilities are available in most towns and cities.
Emergencies
Emergencies: 999 (Police); 997 (Ambulance); 998 (Fire)
Languages Spoken
Arabic is the official language in Saudi Arabia, but English is widely understood.
Duty Free
Travellers to Saudi Arabia do not have to pay duty on 600 cigarettes or 100 cigars or 500g tobacco; or perfume or cultured pearls for personal use. Duty is payable on cameras and other electronic goods, and refunds on these are available if the articles are re-exported within 90 days. Strictly prohibited are food products and carbonated water, animals and birds and palm trees or derivatives thereof. Other prohibited items include alcohol, firearms, drugs, pork products and natural pearls.
Electricity
Electrical current is 230 volts, 60Hz. Three-pin, square-shaped plugs are in use.
Climate Info
Saudi Arabia has a typical desert climate of blistering hot days and cool nights, and is one of the driest countries in the world. Summers can be extremely hot with temperatures rising to 130ºF (55ºC) in some areas. The higher inland areas are cooler. Coastal cities are humid and hot year round. Sandstorms blow anywhere in the country, some lasting for days.
Passport
All visitors require a visa to enter Saudi Arabia, and visas are only granted to those with sponsorship in the country. Tourist visas are hard to get, granted only to selected groups on a limited basis. Everyone who enters the Kingdom should have a valid passport with at least six months validity in addition to the appropriate visa and a return ticket, with all necessary documents. Women entering the Kingdom alone must be met by a sponsor or male relative and have confirmed accommodation for the duration of their stay. Entry may be refused to any visitor arriving in an intoxicated state, men wearing shorts, women in tight clothing or with legs and arms exposed, and to couples displaying affection in public. There are special requirements for pilgrims undertaking the Hajj or visiting holy sites. It is strongly recommended not to hold passports containing any Israeli visa or stamp when entering or transiting Saudi Arabia as entry may be refused.
Entry Requirements
US citizens require a passport and visa to enter Saudi Arabia, and must be valid for the duration of their stay.
British passport holders require a passport and visa to enter Saudi Arabia.
Canadians require a passport and visa to enter Saudi Arabia.
Australians require a passport and visa to enter Saudi Arabia.
South Africans require a passport and visa to enter Saudi Arabia.
Irish passport holders require a passport and visa to enter Saudi Arabia.
New Zealanders require a passport and visa to enter Saudi Arabia.
Health
Anyone arriving in Saudi Arabia from a country infected with yellow fever requires a vaccination certificate for entry. People travelling to perform Hajj and Umrah are required to be inoculated against meningitis before travel and must present a vaccination certificate on arrival; a meningococcal vaccine is recommended for all travellers. Respiratory infections are common among pilgrims during the Hajj season. Not compulsory, but definitely advisable, is vaccination against hepatitis A, polio and typhoid fever.
There is a malaria risk in the south and parts of the western region of the country and visitors should take advice on anti-malarial precautions at least four weeks before leaving; an outbreak of cerebral malaria has occurred in Jizan. Rift Valley Fever has also occurred, mainly in the Jizan area. Dengue fever has been reported.
Food poisoning is a risk outside the good hotels. Visitors should only drink bottled water. The standard of medical care and facilities in Saudi Arabia is high, but treatment is expensive, therefore health insurance is strongly advised for all travellers.
Safety
Travel safety in Saudi Arabia is a concern. The US and British authorities believe terrorists may be planning further attacks against Westerners and in places associated with Westerners in Saudi Arabia following incidents in which foreign nationals were killed. Aviation interests remain a possible terrorist target. Attacks in the past have included kidnappings, targeted shootings and bombings of shopping areas, government offices and car bombs.
Visitors who choose to risk entering the country should ensure they have individual security arrangements, remain vigilant, keep a low profile and avoid public gatherings. Visitors should be particularly alert in public places frequented by foreigners such as shopping malls, restaurants and hotels and in the desert outside Riyadh.
Pilgrims are increasingly being targeted by pickpockets in Mecca and Medina and are advised to take care of personal possessions. In recent years pilgrims have died due to overcrowding and stampedes at events during Haj. Religious police patrols rigorously enforce codes of behaviour and dress prescribed by Islamic law and visitors should respect these.
Emergency Phone Number
Emergencies: 999 (Police); 997 (Ambulance); 998 (Fire)
* For current safety alerts, please visit
Foreign travel advice - GOV.UK
or
Travel.State.Gov
Money
The Saudi currency is the Riyal (SAR), divided into 100 halala. Foreign currency can be changed at banks and exchange bureaux. Banking hours are generally Saturday to Wednesday from 9am to 12pm. Some banks also choose to open again later in the afternoon and stay open into the evening, from 4pm to 8pm. All major credit cards are accepted at shops, hotels and restaurants in Saudi Arabia. ATMs are widely available.
Exchange Rate
Not available.
Embassies of Saudi Arabia
Saudi Arabian Embassy, Washington DC, United States: +1 202 342 3800.
Saudi Arabian Embassy, London, United Kingdom (also responsible for Ireland): +44 (0)20 7917 3000.
Saudi Arabian Embassy, Ottawa, Canada: +1 613 237 4100.
Saudi Arabian Embassy, Canberra, Australia (also responsible for New Zealand): +61 (0)2 6250 7000.
Saudi Arabian Embassy, Pretoria, South Africa +27 (0)12 362 4230.
Foreign Embassies in Saudi Arabia
United States Embassy, Riyadh: +966 (0)1 488 3800.
British Embassy, Riyadh: +966 (0)11 481 9100.
Canadian Embassy, Riyadh: +966 (0)11 488 2288.
Australian Embassy, Riyadh: +966 (0)1 488 7788.
South African Embassy, Riyadh: + 966 (0)1 422 9716.
Irish Embassy, Riyadh: +966 (0)1 488 2300.
New Zealand Embassy, Riyadh: +966 (0)1 488 7988.
Customers
Saudi Arabia is a Muslim country in which Islamic law is strictly enforced. No alcohol, pork products or religious books and artefacts not related to Islam are permitted in the country. There are no bars in Saudi Arabia, and alcohol is served nowhere to anyone of any religious persuasion.
Dress should be conservative at all times, and women should take particular care not to offend. Visitors are advised to familiarise themselves with behaviour and dress codes before entering the country. Homosexual behaviour and adultery are illegal and can carry the death penalty.
Photography of local people, government buildings, military installations and palaces is not allowed, and women are not permitted to drive. Religious customs should be respected, particularly during the month of Ramadan when eating, drinking and smoking during daylight hours should be discreet as it is forbidden by the Muslim culture. The right hand should be used for everything, including eating and the giving and receiving of things, as the left is considered unclean. It is illegal to hold two passports, and second passports will be confiscated if discovered by immigration authorities.
Business
If you are looking to do business in Saudi Arabia, prepare yourself for a unique experience. The Saudi corporate world is perhaps the most foreign of any of the Gulf nations, and in all likelihood you are going to have to remain flexible and to learn new skills, in order to make a real success of your time in the country. It is vitally important to understand that Saudi society is underpinned by fervent belief in the tenets of Islam.
The business culture of Saudi Arabia is prototypically Arabic, in that a great emphasis is placed on personal relationships between business associates - Saudi businessmen will always prefer to do business with people they are familiar with, or people who they feel they can trust, so it is worth putting in the time and effort to cultivate business relationships. In Saudi Arabia, business meetings will most likely be lengthy, and subject to numerous interruptions and personal digressions. You will be judged on your conduct in meetings, so treat them as necessary parts of the relationship-building process.
Despite the heat, business dress in Saudi Arabia is strictly smart, formal and conservative, especially for women, who must take extreme care not to wear anything too revealing. The official language of Saudi Arabia is Arabic, though English is widely spoken and widely understood in the business world. Hours of business are generally from 8am to 12pm, and then 3pm to 6pm, from Saturday to Thursday.
Tipping
Service charge is usually included in bills at hotels. Elsewhere a tip of 10 percent can be offered for services rendered. Taxi drivers can be given 10 percent of the fare.
Public Holidays in Saudi Arabia
| | | |
| --- | --- | --- |
| | 2017 | 2018 |
| Unification of the Kingdom | 23 Sep | 23 Sep |
| Eid al-Fitr | 26 Jun | 15 Jun |
| Eid al-Adha | 2 Sep | 22 Aug |
Overview
Although not especially celebrated for its tourism opportunities, Saudi Arabia has some wonderfully culturally enriching sites to visit making it a memorable destination. Apart from the religious pilgrimages, there is growth in Saudi Arabia's leisure tourism sector, which is promising for those hoping to visit the country on holiday.
The cities are bustling and vibrant, each in their own way. Riyadh offers excellent hotels and some breath-taking sights such as the Al Faisaliah golden geodesic dome, one of the tallest buildings in the region. The Al Musmak Castle, an important landmark and heritage site can also be found there.
The historic city of Jeddah is certainly worth the visit. The preserved ancient city is listed as a 'tourist site', as it is the city's seafront corniche, a popular spot with the air of a British seaside resort that draws the country's own domestic holidaymakers. Among it all, the magic of Arabia shines through in the souks (markets) where vendors enthusiastically tout everything from carpets to camel milk.
Rules and regulations can sometimes make sightseeing difficult for foreigners wanting to travel independently, so booking tours is the safest and most stress-free option; however, sites like the ruins of 15th-century Dir'aiyah (the nation's first capital) and trips to the world's largest camel market make for one-of-a-kind experiences which make some sightseeing a must in this somewhat enigmatic country.
Map of Saudi Arabia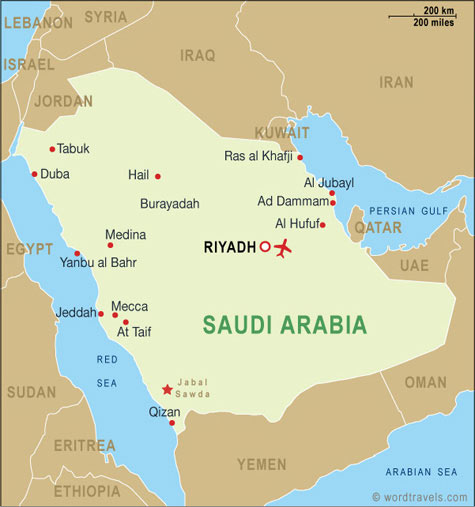 Travel Guide powered by www.wordtravels.com, copyright © Globe Media Ltd. All rights reserved. By its very nature much of the information in this guide is subject to change at short notice and travellers are urged to verify information on which they're relying with the relevant authorities. Globe Media and UNIGLOBE Travel does not accept any responsibility for any loss or inconvenience to any person as a result of information contained above.