General
Money
Entry Requirements
Health & safety
Weather
Embassies
Etiquette
Public Holidays
Attractions
Map
---
Introduction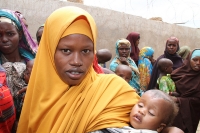 Women and children in Dollow, Somalia ©Trocaire
Somalia is a country on the coast of the Horn of Africa, with a history dating back millenia. The ancient Egyptians knew the region as the 'land of spices' and ancient historical texts note the prosperity and trading power of the people living along this coastline. During the colonial era the region was so sought after that the territory was divided between the British, Italian and French, partly to dilute the power of a local population unified under the same language and religion.
Tragically, however, Somalia has been beset for many decades by civil war, clashing warlords and waves of rebellions and coups, and has for some time been considered one of the most dangerous countries on earth. Despite various efforts to stabilise government and subdue warring factions Somalia has been essentially in a state of anarchy for nearly three decades. Since 1991 Somalia has effectively been divided into three separate states: Somalia to the south, the independent state of Somaliland in the middle, and Puntland to the north. Of the three, Somaliland is the only destination with a proper administration and some sense of peace and stability.
Extensive travel warnings are in place for Somalia, and travellers are warned that rates of kidnapping, murder and piracy are high. The huge upsurge in piracy over recent years is centred on the remote port of Eyl - the Somali pirates are a law unto themselves, hijacking ships for ransom and governing their region with total impunity.
One day peace will come to this tragic part of the world. When it does, tourists will experience the thrill of a virtually undiscovered destination, including the delights of the longest coastline in Africa. There are 1,864 miles (3,000km) of beaches, astounding scuba diving at Las Geel, world-class Neolithic rock paintings, and a unique ancient culture to discover, all just waiting to be appreciated.
Languages Spoken
The official languages of Somalia are Somali and Arabic, but many other languages are spoken.
Passport
Upon arrival all visitors over 18 years of age must exchange USD 100 or equivalent of other freely convertible foreign currencies into local currency. Some nationalities can obtain visas on arrival for a maximum stay of 30 days, but to qualify an invitation letter issued by a local sponsor has to be submitted to the Airport Immigration Department at least two days before arrival. It is highly recommended that passports have at least six months validity remaining after your intended date of departure from your travel destination. Immigration officials often apply different rules to those stated by travel agents and official sources.
Entry Requirements
A valid passport and visa are required.
A valid passport and visa are required.
A valid passport and visa are required.
A valid passport and visa are required.
A valid passport and visa are required.
A valid passport and visa are required.
A valid passport and visa are required.
Health
Hepatitis A, hepatitis B, typhoid and meningococcus vaccinations are recommended for all travellers and malaria medication is recommended for travel to all regions. A yellow fever vaccination is recommended for some parts of the country and is required for those arriving from countries with a risk of yellow fever transmission. Travellers should also be up to date on vaccinations for MMR (measles, mumps, rubella) and tetanus-diphtheria.
Medical facilities are extremely limited and most doctors and hospitals will expect immediate cash payment regardless of medical insurance policies. Serious illness or injury is likely to require evacuation out of the country for treatment.
* For current safety alerts, please visit
Foreign travel advice - GOV.UK
or
Travel.State.Gov
Exchange Rate
Not available.
Embassies of Somalia
Foreign Embassies in Somalia
Customers
Somalia practises very strict and conservative Islamic cultural traditions. Avoid religious debates and respect Islamic traditions such as the call to prayer, and fasting during Ramadan. Alcohol is prohibited in Somalia. Always dress conservatively: men should wear long pants, and women should keep their arms and legs covered. Homosexuality is illegal and penalties can be extreme. In greeting, only members of the same clan exchange handshakes or kisses.
Public Holidays in Somalia
Travel Guide powered by www.wordtravels.com, copyright © Globe Media Ltd. All rights reserved. By its very nature much of the information in this guide is subject to change at short notice and travellers are urged to verify information on which they're relying with the relevant authorities. Globe Media and UNIGLOBE Travel does not accept any responsibility for any loss or inconvenience to any person as a result of information contained above.