General
Money
Entry Requirements
Health & safety
Weather
Embassies
Etiquette
Public Holidays
Attractions
Map
---
Introduction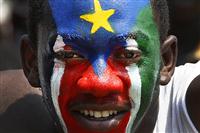 Say hello to South Sudan, the world's newest country. Separated de facto for years since a 2005 peace agreement, South Sudan celebrated its official independence on 9 July, 2011. The country consists of 10 states grouped into three regions, which correspond to those under the former Sudan: the Greater Upper Nile to the north-east, Bahr el Ghazal to the west and Equatoria to the south, which houses the capital city, Juba.
Six decades of conflict spanning two civil wars have left both Sudan and South Sudan ravaged, but South Sudan has borne the brunt of the violence. The Sudan People's Liberation Army/ Movement (SPLA/M) is now governing the country. For many years a rebel army rather than a functional government, it faces the massive task of improving infrastructure in this desperately poor area, which has the worst health situation and highest maternal mortality and female illiteracy rates in the world. Considered unsafe for inexperienced travellers for many years, the peace agreement and subsequent independence has seen some ease in political clashes, and dangers to tourists (such as being taken hostage) have lessened. However, the area is still unstable - skirmishes continue to break out along the border, and South Sudan itself is still marred by more localised ethnic violence.
So why go? For one thing, underdeveloped South Sudan has the potential to be one of Africa's best destinations for seeing wildlife and unspoilt natural beauty. Unlike the dry deserts of Sudan, South Sudan has a higher rainfall and is mostly made up of rainforests, wetlands and grasslands, with impressive waterfalls in the mountains. Despite decades of conflict and inadequate conservation infrastructure, wildlife is still there, with 1.3 million-strong herds of antelope recently recorded crossing the grasslands in migration season. The wetlands are also home to thousands of bird species. There are five national parks, including Boma National Park in the Greater Upper Nile region to the north, and at least 14 smaller game reserves. Luxury resorts offer an increasing array of overland safaris and sunset cruises. Head for the grasslands to see impressive herds of antelope such as hartebeest and eland, as well buffalo, hippo, crocodiles, elephants and lions, or to the tropical rainforests to spot chimpanzees, monkeys and wild boar. Adrenalin junkies can even go white-water rafting at Fulla Falls on the White Nile.
Travel in South Sudan is mostly by dirt road, with few tarred roads outside of central Juba. Although there are a couple hundred kilometres of single-track rail in the north, these have yet to be extended down to the capital. The biggest airport in the country is in central Juba, which has weekly flights to and from neighbouring capitals in Kenya, Ethiopia, the DRC and Uganda. There are also three smaller international airports at Wau, Rumbek and Malakal which have regular flights to Khartoum, Sudan, as well as smaller landing strips (often dirt tracks) in rural areas.
Staying in and around the new capital, Juba, is safest and most convenient in terms of facilities, infrastructure and government control, and is probably the best base from which to explore the natural beauty of South Sudan if you won't be staying in a resort. Juba is situated on the banks of the White Nile in southernmost Equatoria, about 11 km from the border and accessible by road from DRC, Uganda and Kenya. The city has poor infrastructure and is largely an informal urban sprawl. But that's changing - the city is a true African boom town, with post-independence foreign aid and business flowing in. Its citizens are proud people and determined to make the new country work. Although small, Juba has plenty to offer the international traveller: luxury hotels, restaurants with cuisine from all over the world, a sports stadium, a number of universities, local attractions like outdoor markets, and several nearby resorts and game parks.
Communications
The international dialling code for South Sudan is +211. The outgoing code is 00 followed by the relevant country code (e.g. 0044 for the UK). Mobile coverage through local companies is possible and there are internet cafes in Juba.
Emergencies
There is no reliable emergency number in South Sudan.
Languages Spoken
English and Arabic are official languages, with several local languages such as Dinka also spoken. Pigin Arabic is spoken in the capital, Juba.
Electricity
Electrical current in South Sudan is230 volts, 50Hz. Two and three-prong round pin plugs are in use.
Climate Info
South Sudan has an equatorial climate and is generally hot and humid all year round, with high rainfall between June and November and hot and dry conditions for the rest of the year. Jabu has an average maximum temperature of 96°F (35°C).
Passport
Immigration laws are still being finalised for South Sudan and travellers are advised to confirm all requirements with official sources before travel. Most countries require visas. Those with an ID card issued by the United Nations can obtain visas on arrival if permission has been granted by the Ministry of Foreign Affairs in advance. It is highly recommended that passports be valid for six months after intended departure from any destination, as authorities on the ground often apply different standards to those stated officially.
Entry Requirements
A valid passport and visa is required.
A valid passport and visa is required.
A valid passport and visa is required.
A valid passport and visa is required.
A valid passport and visa is required.
A valid passport and visa is required.
A valid passport and visa is required.
Health
Visitors to South Sudan should make sure they've been vaccinated against yellow fever, typhoid, tetanus, polio, measles, hepatitis A and meningococcal meningitis. A yellow fever certificate is required by those arriving from an infected country. A hot and humid country, Malaria is rife and dengue fever occurs, so precautions against mosquito bites should be taken. An outbreak of Rift Valley Fever, spread by mosquitoes, killed over 222 people between November 2007 and January 2008. Cholera outbreaks occur. Water and food-borne diseases are common and travellers should purify drinking water and carry anti-diarrhoeal drugs. AIDS is a growing problem. Visitors should ensure they have comprehensive medical insurance, which should include evacuation by air ambulance.
Safety
There are a lot of foreigners in Jabu and its considered safe to walk around the city. Avoid the northern border if possible.
Emergency Phone Number
There is no reliable emergency number in South Sudan.
* For current safety alerts, please visit
Foreign travel advice - GOV.UK
or
Travel.State.Gov
Money
The official currency is the South Sudanese Pound (SDG), which is divided into 100 piastres. It's a good idea to carry cash (preferably US Dollars) rather than relying on credit card facilities.
Exchange Rate
Not available.
Embassies of South Sudan
Foreign Embassies in South Sudan
Business
English is the official language of business in South Sudan, although Arabic is also widely spoken.
Tipping
Tips are accepted for good service and are usually 10-15% of the bill.
Public Holidays in South Sudan
| | | |
| --- | --- | --- |
| | 2017 | 2018 |
| Eid al-Adha (Feast of the Sacrifice) | 2 Sep | 22 Aug |
| Eid al-Fitr (End of Ramadan) | 26 Jun | 15 Jun |
| International Labour Day | 1 May | 1 May |
| Easter Day | 16 Apr | 1 Apr |
| Peace Agreement Day | 9 Jan | 9 Jan |
| SPLA Day | 16 May | 16 May |
| Independence Day | 9 Jul | 9 Jul |
| Martyrs Day | 30 Jul | 30 Jul |
| Christmas Day | 25 Dec | 25 Dec |
| Boxing Day | 26 Dec | 26 Dec |
| New Years Day | 1 Jan | 1 Jan |
| Republic Day | 28 Dec | 28 Dec |
Travel Guide powered by www.wordtravels.com, copyright © Globe Media Ltd. All rights reserved. By its very nature much of the information in this guide is subject to change at short notice and travellers are urged to verify information on which they're relying with the relevant authorities. Globe Media and UNIGLOBE Travel does not accept any responsibility for any loss or inconvenience to any person as a result of information contained above.