General
Money
Entry Requirements
Health & safety
Weather
Embassies
Etiquette
Public Holidays
Attractions
Map
---
Introduction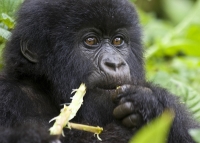 Baby gorilla, Uganda ©Hjalmar Gislason
A small, landlocked country straddling the equator between Kenya and the DRC in Eastern Africa, Uganda is one of the continent's most beautiful countries, boasting a wide variety of scenery, culture and wildlife despite its modest size.
Its reputation as 'Africa's friendliest country' is not only accredited to its likeable people, but also to its redevelopment as an eco-friendly environment, with the enlightened management of 10 national parks, and its introduction of eco-tourism projects, adventure sports and unique gorilla-trekking opportunities that have put the country back on the tourist circuit. After years of misrule, hardship and war under Idi Amin, Uganda is once again receiving positive global interest due to its forward-thinking policies and wealth of tourist attractions.
Uganda's variety of landscapes is as astounding as its biodiversity. Forested crater lakes on the floor of the Rift Valley give way to typical East African savannah as well as tropical rainforest. The glacial peaks of the highest mountain range in Africa, the 'Mountains of the Moon' or Rwenzori Mountains that mark the country's western border, as well as a number of extinct volcanoes make for world-class hiking and mountaineering. There are several large bodies of water, including the massive Lake Victoria, which it shares with Tanzania and Kenya, and the myriad islands dotting Lake Victoria and Lake Bunyoni are ideal birdwatching destinations. Lake Victoria is also the source of the Nile, the longest river in the world, which passes through the impressive Murchison Falls and creates some of the most exciting white water rafting on earth.
What also makes Uganda a unique safari destination is its remarkable concentration of primates, which is the highest on earth, and people are drawn from around the world to track chimpanzees and to experience the face to face encounter of a lifetime: the massive mountain gorilla.
Communications
The international dialling code for Uganda is +256. There is extensive GSM mobile phone network coverage over most of the country, and internet cafes are available in most large towns.
Emergencies
999 or 112 (General)
Languages Spoken
English is the official national language in Uganda. Luganda is also widely spoken and is the most common of the numerous indigenous languages.
Duty Free
Travellers to Uganda over 18 years of age do not have to pay duty on 250g of tobacco products; one litre of spirits or two litres of wine; and 500ml of perfume or eau de toilette, of which up to 250ml may be perfume.
Electricity
Electrical current is 220-240 volts, 50Hz. Three-pin, rectangular blade plugs are in use.
Climate Info
The climate in Uganda is typically tropical with little variation in temperature throughout the year. Distinctive wet and dry seasons characterise the climate of most of the country, except in the semi-arid north east. The dry season in Uganda, generally from December to February and mid-June to mid-August, is the best time to visit. The two rainy seasons are from March to May, and September to November. In the south the rainiest month is April. The mountainous areas in western and eastern Uganda can be cold at night. The best time to visit Uganda is in the drier month, specifically January and February, and June to September, as this is the best time to go gorilla-trekking in Uganda.
Passport
All visitors require a passport that is valid for at least six months on entry. Visitors must hold return or onward tickets, proof of reason for visit, an address and contact number in Uganda, and sufficient funds. A visa can be obtained on arrival at a cost of USD 50. With effect from 1 July 2016, Uganda has introduced an e-visa system; it is advised that visitors apply in advance online for the e-visa before travel. Authorisation is granted via email which should be printed and given to immigration officials on arrival in Uganda, along with the USD 50 in cash. A valid 'East African Tourist Visa' issued by Kenya or Rwanda is accepted, provided having first entered the country that issued the visa.
Entry Requirements
US nationals require a passport valid for six months from date of arrival and a visa.
UK nationals require a passport valid for six months from arrival date and a visa.
Canadians require a passport valid for six months beyond arrival date and a visa.
Australians require a passport valid for six months beyond arrival date and a visa, which can be obtained on arrival.
South Africans require a passport valid for six months beyond arrival date and a visa, which can be obtained on arrival.
Irish nationals require a passport valid for six months beyond arrival date. Visa required, and can be obtained on arrival.
New Zealand nationals require a passport valid for six months beyond arrival date and a visa, which can be obtained on arrival.
Health
Travellers' diarrhoea is the most common complaint for visitors to Uganda. Recommended vaccinations include hepatitis A and typhoid. In recent years a Hepatitis E outbreak in northern Uganda killed dozens of people and infected thousands more so it is advised that visitors take precautions if visiting the area. All visitors require vaccination against yellow fever. Cholera outbreaks occur occasionally, but most travellers are at low risk for infection; bottled water is widely available. Malaria and HIV/AIDS are widespread. Outbreaks of the plague and meningitis occur and visitors should insure that vaccinations are up to date. Uganda has also seen an outbreak of Ebola in the past and although not an issue any longer, it is advised visitors be aware. Incidents of sleeping sickness are on the rise, carried by tsetse flies. Limited health facilities are available outside of Kampala. Comprehensive medical insurance is advised.
Safety
Most national parks are safe to visit and a holiday to Uganda is generally trouble-free. Kampala, the capital, is a relatively safe city, although visitors should take sensible precautions against opportunistic crime and at night. Theft of EU passports has been on the increase.
Due to the risk of banditry and attacks by other rebel groups, and tribal clashes, most foreign governments advise against travel to the northeast of Uganda. Travellers in the northwest near the border with Sudan and the DRC are also at risk of banditry, and travel outside of the main towns is to be avoided after dark.
Areas bordering Sudan in the north, the region known as West Nile in the north west (except Arua town, which can be visited by air), and the Karamoja region of north eastern Uganda are insecure and can pose a serious risk to travellers. Kidepo Valley National Park should be visited by air only. Gorilla trekking excursions that cross over into the DRC should be avoided.
Despite publicity in recent years, there has been no activity by the Lord's Resistance Army in Uganda since 2006.
Emergency Phone Number
999 or 112 (General)
* For current safety alerts, please visit
Foreign travel advice - GOV.UK
or
Travel.State.Gov
Money
The official currency is the Ugandan Shilling (UGX), which is divided into 100 cents. Foreign currency can be exchanged at banks and bureaux de change; the best currencies to change are US Dollars, Euros or Pounds Sterling, but only exchange at official establishments. ATMs are available in major towns and cities. Credit cards are only accepted at major hotels, shops and restaurants, usually only in the cities.
Exchange Rate
Not available.
Embassies of Uganda
Uganda Embassy, Washington DC, United States: +1 202 726 7100.
Uganda High Commission, London, United Kingdom (also responsible for Ireland): +44 (0)20 7839 5783.
Uganda High Commission, Ottawa, Canada: +1 613 789 7797.
Uganda High Commission, ACT, Australia (also responsible for New Zealand): +61 (0)2 6286 1234.
Uganda High Commission, Pretoria, South Africa: +27 (0)12 342 6031.
Foreign Embassies in Uganda
United States Embassy, Kampala: +256 (0)41 259 791.
British High Commission, Kampala: +256 (0)31 231 2000.
Canadian High Commission, Nairobi, Kenya (also responsible for Uganda): +254 (0)20 366 3000.
Australian High Commission, Nairobi, Kenya (also responsible for Uganda): +254 (20) 4277 100.
South African High Commission, Kampala: +256 (0)41 770 2100.
Customers
Visitors to Uganda are advised not to take photographs of military or official sites, including Owen Falls Dam. Homosexual practices are frowned upon and public displays of affection should be avoided.
Business
Uganda has one of the fastest-growing economies and is one of the most liberal countries in Africa. Agriculture is the largest sector of the economy and coffee the chief export. Uganda is most welcoming for foreign investment and business is steadily on the increase. Appointments should always be made prior to business meetings. Formal dress attire is to be observed, and the shaking of hands is expected on introduction. Business is usually conducted in English. Business hours are generally 8am to 5pm Monday to Friday with an hour taken over lunch.
Tipping
At local hotels and restaurants in Uganda, tipping is not common, but tips of 5 to 10 percent are expected at tourist-orientated establishments. It is customary to tip guides and drivers.
Public Holidays in Uganda
| | | |
| --- | --- | --- |
| | 2017 | 2018 |
| Remembrance of Archbishop Janani Luwum | 16 Feb | 16 Feb |
| New Years Day | 1 Jan | 1 Jan |
| Liberation Day | 26 Jan | 26 Jan |
| International Womens Day | 8 Mar | 8 Mar |
| Good Friday | 14 Apr | 30 Mar |
| Easter Monday | 17 Apr | 2 Apr |
| Labour Day | 1 May | 1 May |
| Martyrs Day | 3 Jun | 3 Jun |
| Heroes Day | 9 Jun | 9 Jun |
| Eid al-Fitr (end of Ramadan) | 26 Jun | 15 Jun |
| Eid al-Adha (Feast of the Sacrifice) | 2 Sep | 22 Aug |
| Independence Day | 9 Oct | 9 Oct |
| Christmas Day | 25 Jan | 25 Jan |
| Boxing Day | 26 Dec | 26 Dec |
Map of Uganda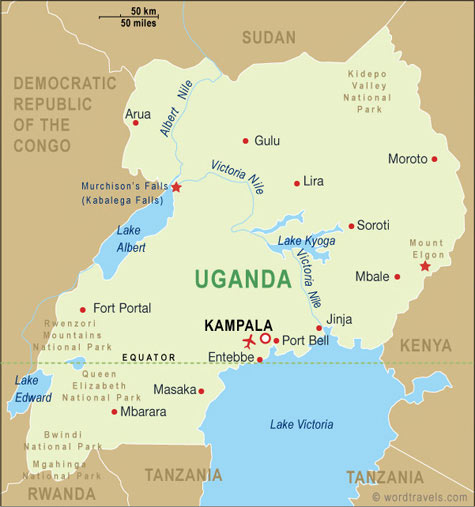 Travel Guide powered by www.wordtravels.com, copyright © Globe Media Ltd. All rights reserved. By its very nature much of the information in this guide is subject to change at short notice and travellers are urged to verify information on which they're relying with the relevant authorities. Globe Media and UNIGLOBE Travel does not accept any responsibility for any loss or inconvenience to any person as a result of information contained above.