General
Money
Entry Requirements
Health & safety
Weather
Embassies
Etiquette
Public Holidays
Attractions
Map
---
Introduction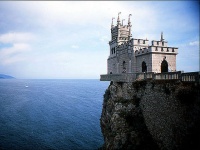 Swallow's Nest, Yalta ©Alice
One of the largest countries in Eastern Europe, Ukraine is situated on the Black Sea, surrounded by Russia, Belarus, Poland, Slovakia, Hungary, Romania and Moldova. It has in recent years become a more popular holiday destination for tourists from surrounding countries, but is also becoming increasingly attractive to citizens of Western Europe and North America.
One of the main attractions for visitors to the Ukraine is the country's rich history, with more than 500 cities dating back over 900 years, and a fascinating assortment of architecture influenced by its diverse neighbours. Most travellers begin in the historical capital city of Kiev, arguably one of the most beautiful cities in Europe, where the ancient streets, striking architecture, lovely scenery, and wealth of historical and religious sites ensure an interesting cultural holiday. The early capital of Old Rus is also enriched with monuments, such as the grandiose St Sophia's Cathedral, famous for its 11th-century mosaics and frescoes, and the Cave Monastery, the holy centre of the early Orthodox Church.
The other major attraction for Ukraine tourists is the natural beauty of the country, with areas like the Carpathian and Crimean mountain ranges; the Black Sea and Sea of Asov; and the Crimean peninsula, a popular tourist haven with its warm climate, famous resorts, history, and old cities such as Sevastopol and Yalta. The Carpathian Mountains draw skiers and hikers year-round, and the region is also popular for its restorative spas and historic sites. Gateway to the mountains is the city of Lviv, one of the main cultural centres of the country and a delight to explore with its medieval old town and distinctive architecture. The harbour town of Odessa, known as the 'Pearl of the Black Sea', is an established tourist destination that also serves as the gateway to many of the famous Black Sea resorts, and is a fascinating city with a wonderful mixture of cultures and historical architecture.
With a name that means 'borderland', it's no wonder that Ukraine is constantly in a state of reinvention. Formerly part of the Soviet Union, the country experienced revolutions in 2004 and 2014 and remains torn between the East and the West. Many visitors find this identity crisis interesting in itself, but Ukraine is primarily a worthy tourist destination because of its history and culture, as well as some thriving resorts.
Cruises on Europe's longest river, the Dnieper River, from Kiev to the Black Sea coast, is one of the most popular ways to tour the Ukraine, providing a discovery of Ukraine's history, and its architecturally rich cities, while cruising the 1,370 mile-long (2,205km) stretch of river on board ship.
Communications
The international dialling code for the Ukraine is +380. GSM mobile phone network coverage is fairly extensive, but international roaming can be expensive. There are internet cafes available in Kiev, and other main cities and towns.
Emergencies
112 (General)
Languages Spoken
Ukrainian is the official language, but Russian is also widely spoken.
Duty Free
Travellers to the Ukraine can bring in 200 cigarettes or 50 cigars or 250g of tobacco products; 1 litre of spirits and 2 litres of wine; and goods for personal use, as well as goods with a total value of €200, without incurring customs duty. Prohibited items include items that can have an impact on the environment, and agricultural goods and live animals.
Electricity
Electrical current is 220-240 volts AC, 50Hz. Plugs are round pin attachment variety with two pins.
Climate Info
The climate is temperate continental, characterised by plenty of rain and cloudy autumns and winters. The southern Crimean coast experiences a Mediterranean climate. There are regular snowfalls in winter (between October and April) with average temperatures of 17°F (-8°C) - 35°F (2°C), with colder temperatures inland. While winters are long and cold, summers are short and can get very hot, especially in the south, with average temperatures of 64°F (18°C) - 81°F (27°C). Rainfall occurs in the form of thundershowers and the occasional downpour; rainfall is highest in the west and north of the country.
Passport
Applicants for tourist visas require a letter of confirmation from a hotel or tour company; for business visas a letter of invitation from a company or organisation in the Ukraine is required. However EU citizens do not require a tourist visa for stays of up to 90 days within a 180-day period. Citizens of the US, Canada, Japan, Switzerland, Slovakia and Turkey do not need invitation letters to obtain a visa. On arrival, all foreign nationals must fill in an Immigration Card, to be presented when entering and leaving the country. All visitors must possess return/onward tickets. It is highly recommended that passports have at least six months validity remaining after your intended date of departure from your travel destination. Immigration officials often apply different rules to those stated by travel agents and official sources.
Entry Requirements
US nationals require a passport valid for duration of stay, but no visa is required for a stay of up to 90 days.
UK nationals require a passport valid for duration of stay, but no visa is required for a touristic stay of up to 90 days within a 180-day period. Holders of British passports with endorsements other than 'British Citizen' should confirm these requirements before travel.
Canadians require a passport valid for duration of stay, but no visa is required for a stay of up to 90 days within a 180-day period.
Australians require a visa and a passport valid for duration of stay to enter Ukraine.
South Africans require a visa and a passport valid for duration of stay to enter Ukraine.
Irish nationals require a passport valid for duration of stay, but no visa is required for a tourist stay of up to 90 days in any 180-day period.
New Zealand nationals require a visa and a passport valid for duration of stay to enter Ukraine.
Health
Immunisation against diphtheria, hepatitis A, hepatitis B, tick-borne encephalitis and rabies should be considered before travel to the Ukraine. Typhoid vaccinations are recommended for long-term travellers who might eat outside of major hotels and restaurants. Tap water is best avoided, or treated by boiling or with chemicals. HIV is widespread and the level of sexually transmitted diseases is high. Due to the risk of exposure to pollutants and radioactive materials, swimming in the Dnieper River should be avoided. Comprehensive medical insurance is advised, and visitors are advised to bring a supply of personal medication.
Safety
The Ukraine has experienced serious political unrest in the recent past and continues to do so, and most governments have instituted travel warnings for the country. The eastern Ukraine and Crimea are particularly to be avoided. Travellers are advised to research the current situation and to stay up to date on travel alerts for the region.
When it comes to crime, most visits to the Ukraine are trouble-free, but foreigners are considered lucrative targets for petty theft and street crime in the Ukraine, and valuables should be kept out of sight, especially in crowded areas and at tourist spots. Particular care should be taken on public transport and overnight trains.
Emergency Phone Number
112 (General)
* For current safety alerts, please visit
Foreign travel advice - GOV.UK
or
Travel.State.Gov
Money
The official currency is the Hryvnia (UAH), which is divided into 100 kopecks. Banks are usually open Monday to Friday until 3pm, and readily exchange Hryvnia for hard currency (banknotes only). US Dollars and Euros are exchanged easily at banks and currency offices, and while other currencies can also be exchanged, they are not as widely accepted. ATMs are widely available in all major towns and cities. Major restaurants, shops and hotels accept Visa, MasterCard and EuroCard; however, credit cards are not widely accepted, particularly in remote areas and smaller establishments. Outside the main cities it is advisable to carry a supply of local currency.
Exchange Rate
Not available.
Embassies of Ukraine
Ukraine Embassy, Washington DC, United States: +1 (202) 349 2920.
Ukraine Embassy, London, United Kingdom: +44 (0)20 7727 6312.
Ukraine Embassy, Ottawa, Canada: +1 613 230 2961.
Ukraine Embassy, Canberra, Australia (also responsible for New Zealand): +61 (0)2 6230 5789.
Ukraine Embassy, Pretoria, South Africa: +27 (0)12 460 1946.
Ukraine Embassy, Dublin, Ireland: +353 (0)1 668 5189.
Foreign Embassies in Ukraine
United States Embassy, Kiev: +380 (44) 521 5000.
British Embassy, Kiev: +380 (44) 490 3660.
Canadian Embassy, Kiev: +380 (44) 590 3100.
Australian Consulate, Vienna, Austria (also responsible for the Ukraine): +43 (0)1 506 740.
South African Embassy, Kiev: + 380 (44) 289 8870.
Honorary Consul of Ireland, Kiev: +380 (44) 279 3200.
Customers
Homosexuality is legal and generally tolerated in Ukraine.
Business
Ukraine, because of a troubled recent history, is trapped in many paradoxical laws and business is observed quite differently than in western Europe. After the country's break from Soviet ties, unprecedented opportunities for the entrepreneur arose, but not many people speak English and the use of interpreters may be necessary; knowledge of German, Russian or Ukrainian will be useful. During meetings formal attire is customary for both men and women, although women are not traditionally part of the business world, and visiting businesswomen may be subjected to chauvanism. Meetings often include informalities and sociable questions, and will regularly begin with a welcoming alcoholic drink, which it is considered rude to refuse. These are often used for character evaluation and it is considered impolite to delve straight into business matters. Typical business hours are 9am to 5pm, Monday to Friday.
Tipping
Tipping is fairly new in the Ukraine and is now expected in restaurants: usually five to 10 percent of the bill is acceptable. In more upmarket establishments 10 percent is more the norm if not already included in the bill. Drivers are not usually tipped.
Public Holidays in Ukraine
| | | |
| --- | --- | --- |
| | 2017 | 2018 |
| Baptism of Kyivan Rus | 28 Jul | 28 Jul |
| Defenders Day | 14 Oct | 14 Oct |
| New Years Day | 1 Jan | 1 Jan |
| Orthodox Christmas Day | 7 Jan | 7 Jan |
| International Womens Day | 8 Mar | 8 Mar |
| Orthodox Easter | 16 Apr | 8 Apr |
| Labour Days | 1 May | 1 May |
| Victory Day | 9 May | 9 May |
| Orthodox Pentecost | 4 Jun | 27 May |
| Constitution Day | 28 Jun | 28 Jun |
| Independence Day | 24 Aug | 24 Aug |
Map of Ukraine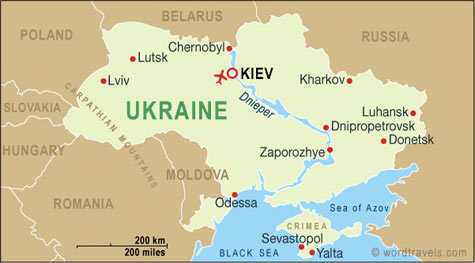 Travel Guide powered by www.wordtravels.com, copyright © Globe Media Ltd. All rights reserved. By its very nature much of the information in this guide is subject to change at short notice and travellers are urged to verify information on which they're relying with the relevant authorities. Globe Media and UNIGLOBE Travel does not accept any responsibility for any loss or inconvenience to any person as a result of information contained above.