General
Money
Entry Requirements
Health & safety
Weather
Embassies
Etiquette
Public Holidays
Attractions
Map
---
Introduction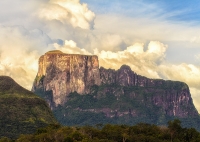 Cerro Autana, Venezuela ©Fernando Flores
Venezuela means 'Little Venice' in Spanish, the name given to this northerly country in South America by the early explorers when they found the natives living on the Sinamaica lagoon, in houses built on stilts, close to the present day oil-rich city of Maracaibo.
The people have a reputation for being welcoming and friendly, although there is a problem with street crime in the larger cities, Caracas in particular. Venezuela has an abundance of natural resources, including one of the biggest oil reserves in the world. The resulting revenues have helped build good infrastructure and encouraged the country's leadership to forge an independent path in international relations, but in many ways Venezuela is still a poor country, wrestling with a number of issues.
Nature has also blessed this country with diverse landscapes, from miles of beautiful Caribbean beaches to open plains, towering mountains, tracts of Amazon rainforest and even a small desert. In the southeast, in Bolivar State, the Gran Sabana National Park contains the spectacular Angel Falls, the world's highest waterfall.
Venezuela's cities are similarly scenic, particularly the capital, Caracas, which sprawls in a long, thin valley flanked by the majestic Avila Mountain. Caracas is lively and green, with a rich cultural life, vibrant nightlife, great restaurants and marvellous modern shopping malls on offer. A favourite excursion in Caracas is to ride the cable car to the summit of the Avila. The popular city of Merida, in the Andes, also has its cable car, and this one takes tourists on a one-hour journey to the highest point in Venezuela, the Pico Bolivar, which reaches more than 16,404ft (5,000m).
Venezuela has a little bit of everything that Latin America has to offer, with the addition of thousands of miles of Caribbean coastline, and the constantly pleasant temperature that makes it good year-round destination. It is not a well-established tourist destination, but for some intrepid travellers this is part of the appeal of Venezuela.
Communications
The international country code for Venezuela is +58 and the outgoing code is 00. City/area codes are in use, for example Caracas is (0)212. Mobile telephone GSM networks cover Caracas but are sparse outside of the city. Internet cafes are available in Caracas and tourist resorts.
Emergencies
171 (General Emergencies)
Languages Spoken
Spanish is the official language of Venezuela.
Duty Free
Travellers to Venezuela do not have to pay duty on the following items: 25 cigars and 200 cigarettes; 2 litres of alcohol; and 4 small bottles of perfume. Those travellers arriving from international destinations do not have to pay duty on goods to the value of US$1,000. Prohibited items include flowers, fruits, meat and meat products, plants and birds or parts thereof.
Electricity
120 volts, 60Hz. American two-pin plugs are generally used.
Climate Info
Situated just above the equator, the weather in Venezuela is warm and pleasant all year round. Depending on altitude the country experiences a humid tropical or alpine climate. In most major urban areas, including Caracas, temperatures average between 54°F (12°C) and 77°F (25°C) all year, although it can get significantly hotter. Most of the country experiences a rainy season between May and November, making the dry season (December to April) the best time to visit, though the Angel Falls are most impressive towards the end of the wet season.
Passport
Those entering Venezuela on a visa require a passport valid for at least six months. Tourist Entry Cards are issued free of charge by air carriers allowing for a stay of up to 90 days and are essential for entry into Venezuela. Visitors must have return tickets or tickets for onward travel as well as all documents required for the next destination and sufficient funds. Immigration officials often apply different rules to those stated by travel agents and official sources.
Entry Requirements
United States citizens require a passport valid for six months beyond arrival date and a visa to enter Venezuela.
British citizens require a passport valid for six months beyond arrival date, but a visa is not necessary for a touristic stay of up to 90 days.
Canadian nationals require a passport valid for six months beyond arrival date, but a visa is not necessary for a touristic stay of up to 90 days.
Australians require a passport valid for six months beyond arrival date, but a visa is not necessary for a touristic stay of up to 90 days.
South African citizens require a passport valid for six months beyond arrival date, but a visa is not necessary for a touristic stay of up to 90 days.
Irish nationals require a passport valid for six months beyond arrival date, but a visa is not necessary for a touristic stay of up to 90 days.
New Zealand nationals require a passport valid for six months beyond arrival date, but a visa is not necessary for a touristic stay of up to 90 days.
Health
There are no vaccination requirements for Venezuela, but those who plan to travel in areas outside the main cities should consider vaccinations for yellow fever, hepatitis A, and typhoid. Some airlines travelling to Venezuela will insist on a yellow fever certificate before boarding the plane, and travellers are advised to check with their airline before travel. There is a risk of malaria, particularly in jungle areas, but prophylaxis is not necessary for travel to Caracas or the coastal areas. Medical advice should be sought at least three weeks prior to departure. Insect protection measures are vital to avoid both malaria and dengue fever, which is on the increase. Tap water should not be drunk, but bottled drinking water is available. Venezuela's hospitals offer free emergency treatment; however, the private hospitals are better quality, though expensive. Public hospitals suffer from a shortage of basic supplies, as do private hospitals and clinics outside Caracas. Health insurance is essential.
Safety
The 1,000-mile (1,609km) long border between Venezuela and Colombia is notorious for the risk of violence, kidnapping, smuggling and drug trafficking. Visitors should give the border region a wide berth. Foreign nationals have also been kidnapped for ransom or violently mugged in Caracas and visitors should be alert to this threat in hotels, taxis and, in particular, at the airport. Street crime is high in Caracas and other cities, and foreigners should be particularly cautious at night. Passengers have been robbed at gunpoint by bogus taxi drivers at Caracas airport; it is best not to accept offers of assistance within the arrivals hall, only at the official taxi rank directly outside. Only licensed taxis bearing a clearly identifiable number should be used. Passengers arriving on late flights are particularly vulnerable. Political demonstrations, sometimes with violence and gunfire, occur regularly in Venezuela (many Venezuelans carry guns) and should be avoided. Pickpockets are very active in the city centres, particularly around bus and subway stations. Armed robberies and muggings are on the increase and theft of unattended valuables left on beaches or in cars is common. Obvious displays of wealth, and talking on mobile phones on the street, should be avoided to reduce the risk of crime. The coastal beach resorts are generally trouble free, though visitors should use common sense in ensuring the safety of their person and possessions. There have been recent cases of robberies and assaults after tourists have been drugged - either through spiked drinks or pamphlets impregnated with substances that are handed out on the streets or in shopping centres.
Emergency Phone Number
171 (General Emergencies)
* For current safety alerts, please visit
Foreign travel advice - GOV.UK
or
Travel.State.Gov
Money
Venezuela's currency is the Bolivar Fuerte (VEF), which replaced the Bolivar (VEB) in January 2008. The revaluation means that Bs. 1,000 becomes Bs F 1. It is divided into 100 centimos. US dollars are the most favoured foreign currency so it is best to have cash in USD. Foreign currency can be changed at bureau de change offices found in most larger cities and tourist destinations. Some banks will now buy US dollars for bolivares or sell bolivares against a foreign credit card; some major hotels will also swap US dollars for bolivares. Banks are usually open Monday to Friday. Bolivars should be exchanged before exiting Venezuela. There are ATMs in the cities (however some travellers have experienced problems using them), and most credit cards, including MasterCard/Eurocard and Visa, are accepted in major cities. Visitors are also warned that there is a serious problem with credit card fraud and using credit/debit cards will greatly increase trip expenses.
Exchange Rate
Not available.
Embassies of Venezuela
Embassy of Venezuela, Washington DC, United States: +1 202 342 2214.
Embassy of Venezuela, London, United Kingdom (also responsible for Ireland): +44 (0)20 7584 4206/7.
Embassy of Venezuela, Ottawa, Canada: +1 613 235 5151.
Embassy of Venezuela, Canberra, Australia (also responsible for New Zealand): +61 (0)2 6290 2968.
Embassy of Venezuela, Pretoria, South Africa: +27 (0)12 346 5747.
Foreign Embassies in Venezuela
United States Embassy, Caracas: +58 (0)212 975 6411.
British Embassy, Caracas: +58 (0)212 263 8411.
Canadian Embassy, Caracas: +58 212 600 3000.
Australian Embassy, Brasilia, Brazil (also responsible for Venezuela): +55 (0)61 3226 3111.
South African Embassy, Caracas: +58 (0)212 952 0026.
New Zealand Consulate-General, Caracas: +58 (0)212 277 7965.
Customers
Photography of military installations and the Presidential Palace is prohibited.
Business
Although the temperature in Venezuela is warm with a high humidity, formal business attire is the norm. People should be addressed as Señor (Mr), Señora (Mrs) and Señorita (Miss) unless otherwise specified. Shaking hands is a customary greeting, and business cards are exchanged on meeting for the first time; it is best to have one side translated into Spanish. Meetings are prompt and generally occur over lunch; evening dinners are generally reserved for socialising. Business hours are 8am to 12pm and 2pm to 6pm Monday to Friday.
Tipping
Tipping is at the discretion of the client and not obligatory. A 10 percent service charge is usually added to restaurant bills, but in budget places tipping is not common. Taxi drivers do not expect tips, but it is customary to give baggage handlers some small change per bag. Tips in Caracas are usually the highest.
Public Holidays in Venezuela
| | | |
| --- | --- | --- |
| | 2017 | 2018 |
| New Years Eve | 31 Dec | 31 Dec |
| All Saints Day | 1 Nov | 1 Nov |
| Assumption of Mary | 15 Aug | 15 Aug |
| Saint Josephs Day | 19 Mar | 19 Mar |
| New Years Day | 1 Jan | 1 Jan |
| Carnival | 27 Feb | 12 Feb |
| Holy Thursday | 13 Apr | 29 Mar |
| Good Friday | 14 Apr | 30 Mar |
| Declaration of Independence Day | 19 Apr | 19 Apr |
| Labour Day | 1 May | 1 May |
| Independence Day | 5 Jul | 5 Jul |
| Simón Bolívars Birthday | 24 Jul | 24 Jul |
| Day of Indigenous Resistance | 12 Oct | 12 Oct |
| Christmas Day | 25 Dec | 25 Dec |
| Battle of Carabobo | 24 Jun | 24 Jun |
Overview
Although Venezuela's potential as a tourist destination remains largely untapped, the country is home to some glorious natural attractions and a few cultural gems.
Top natural attractions in Venezuela include the spectacular Angel Falls, the highest waterfalls in the world, which can be found deep within the jungle of the beautiful Canaima National Park. On the other extreme, balancing out the wet greenery of the rainforest, are the unexpected stretches of golden sand dunes found in the Los Medanos de Coro National Park. Many travellers also choose to explore the lovely coastline and Margarita Island (Isla Margarita) is a particular favourite, with dozens of pristine beaches and a vibrant nightlife.
Most travellers start their journey in the capital, Caracas, and this old city boasts some tourist attractions, but sadly the urban areas of Venezuela have been hit hard by poverty and have become increasingly dangerous for tourists. This is not to say that the city has nothing to offer, but those sightseeing in Caracas are advised to take precautions against crime. One of the best things to do in Caracas is take a trip on the cable car up the mountain, which earns travellers wonderful views of the city. Caracas also boasts a fun and feisty nightlife.
Map of Venezuela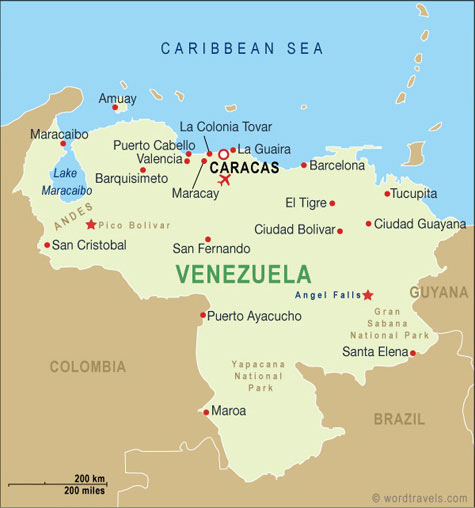 Travel Guide powered by www.wordtravels.com, copyright © Globe Media Ltd. All rights reserved. By its very nature much of the information in this guide is subject to change at short notice and travellers are urged to verify information on which they're relying with the relevant authorities. Globe Media and UNIGLOBE Travel does not accept any responsibility for any loss or inconvenience to any person as a result of information contained above.