General
Weather
Airports
Attractions
Activities
---
Introduction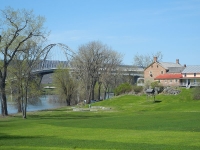 Vermont State Historic Site and the Lake Champlain Bridge ©Zeph77
Vermont is a small, highly attractive state in New England, sandwiched between New York and New Hampshire, and bordering on the Canadian province of Quebec in the north. The impressive Green Mountains create a north-south spine running most of the length of the state, the majority of which is covered by dense forest, and the glittering Lake Champlain stretches across the northwest. With 52 state parks, top-class outdoor activities, spectacular fall foliage and local delicacies, it is no surprise that tourism is Vermont's biggest industry.
Vermont was originally inhabited by small groups of Algonquin-speaking Native Americans, including the Abenaki and Mohicans. The Iroquois later edged out most of the smaller groups, claiming the area as a hunting ground. In 950 AD, the Viking explorer Olaf Tomsson is said to have settled in the northern part of the region, only to be pushed out by the Abenaki. Large-scale European settlement began much later in the mid-1600s, when French explorer Simon de Champlain claimed what is now known as the Lake Champlain region as part of New France. The British soon ousted the French and new settlers brought new conflicts, giving rise to the Green Mountain Boys militia (begun by New Hampshire settler Ethan Allen) who fought the British in the Revolutionary War. Vermont became the 14th state to join the Union in 1791.
Vermont is popular year round, but the abundance of world-class ski resorts means that winter is a peak season, with a focus on cross-country and downhill skiing, snowshoeing and snowboarding. For those who prefer the warmer months, summer offers a wide range of activities from hiking, fishing, camping and water sports, to traditional New England clam bakes, lake cruises and rambles through small towns. The breath-taking fall foliage, when the sugar maples are a riot of golds, oranges and reds, draws many a 'leaf peeper.' At any time of year the culinary delicacies of the state should be sampled: try some maple syrup (Vermont is America's leading producer of the sweet treat), indulge in the famed Vermont Cheddar cheese, or visit the birthplace of Ben and Jerry's ice cream.
Although Montpelier is the state capital, Burlington is Vermont's biggest city, situated on the eastern shore of Lake Champlain. The city is attractive, lively and historically significant, and was once one of the leading ports in the country. A restored waterfront with views of the Adirondacks, bustling markets, a moderate climate and friendly locals make Burlington an essential stop on any visit to the Green Mountain state.
Climate Info
Vermont's climate is changeable, with greater differences between summer and winter temperatures than most parts of New England. The northern region, including what is known as the Northeastern Kingdom, tends to experience the coldest winters in the state, with temperatures averaging about 10°F (6°C) colder than in the south. Summer temperatures average around 70°F (21°C). Snowfall in winter is heavy and most rainfall occurs in the summer. Spring tends to bring what is known as the mud season, when frozen ground thaws, resulting in thick mud.
Getting Around
Burlington is a pedestrian-friendly city that is easy to negotiate on foot. Walking is also the best way to enjoy the beauty of the city and its surrounds. Car rental agencies are available in the city and at the Burlington Airport. Traffic is heavy at peak hours. The Chittenden County Transportation Authority (CCTA) runs the public bus system and buses tend to be reliable and affordable. Hiring a bicycle is also a good option, particularly if one takes advantage of the Burlington Bike Path situated on the picturesque waterfront.
Burlington International Airport (BTV)
| | |
| --- | --- |
| Location | The airport is located three miles (5km) east of Burlington. |
| Time Difference | GMT -5 (GMT -4 from mid-March to the first Sunday in November). |
| Contacts | Tel: +1 802 863 2874. |
| Getting to city | The airport is connected to Burlington and neighbouring areas by the Chittenden County Transportation Authority's Circular Route 12. Greyhound offers service four times per day to Montreal and Boston. Car rental and taxi services are also available. |
| Car Rental | Major car hire agencies represented at the airport include Hertz, Avis, Budget, National, Alamo and Enterprise. |
| Airpor Taxis | Taxis are available from the airport. Meters start at $2.50, and charge $2.50 per mile. The minimum fare is $7.50, with an airport surcharge of $4 and an additional $1 levied per extra passenger. |
| Airport Facilities | The airport has a yoga studio, a rooftop garden, private rooms for nursing mothers, local food outlets, ATMs and information desks. |
| Car Parking | A multi-level covered parking area offers long and short-term parking. Parking is charged at $1 for the first hour and $2 per hour for the next three hours. A daily rate of $12 is charged after four hours. |
| Website | www.btv.aero |
Ethan Allen Homestead and Museum




One of Burlington's earliest inhabitants, Ethan Allen, was a charismatic backwoodsman-turned-statesman originally from Connecticut. In capturing Fort Ticonderoga during the Revolutionary War, and as the leader of the Green Mountain Boys militia, he secured his position as a folk hero and
▼ see more




Ethan Allen's Homestead ©Doc Searls
---
Lake Champlain Chocolates




Lake Champlain Chocolates began as a challenge from a restaurant owner, Jim Lampman, to his pastry chef. In response to the pastry chef's criticism of a box of fancy chocolates, Jim told him to see if he could do better. As it turns out, he could, and within weeks Jim was serving flavour
▼ see more




Lake Champlain Chocolates ©stu_spivack
---
Ben and Jerrys Ice Cream Factory




In 1978, Ben Cohen and Jerry Greenfield managed to use the knowledge from a $5-correspondence course on ice cream making to create a multi-million dollar company. Today travellers can enjoy a trip out to the Ben and Jerry's Factory in Waterbury and get a chance to see how the famous trea
▼ see more




Ben and Jerry's Ice Cream Factory ©Jared C Benedict
---
Killington




With seven peaks and 87 miles (140km) of trails, Killington is the biggest winter sports resort in the eastern United States, earning it the nickname 'the Beast of the East'. Opened in 1958, Killington has five base lodges (all colour coded for convenience) and a huge variety of terrain.
▼ see more




Killington slopes, Vermont ©Mark Klapper
---
Stowe




The Stowe holiday resort was developed in the 1930s, and as the 'granddaddy' of Vermont ski resorts, it has managed to retain a genteel atmosphere and traditional New England flavour. Situated about 15 minutes north of the charming town of Stowe, the resort is split over two mountains, M
▼ see more




Stowe Town Hall ©Dudesleeper
---
Travel Guide powered by www.wordtravels.com, copyright © Globe Media Ltd. All rights reserved. By its very nature much of the information in this guide is subject to change at short notice and travellers are urged to verify information on which they're relying with the relevant authorities. Globe Media and UNIGLOBE Travel does not accept any responsibility for any loss or inconvenience to any person as a result of information contained above.