Improving Customer Experience with Technology in the Sky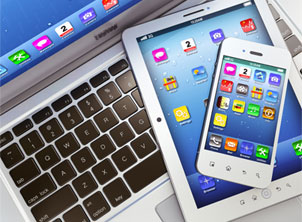 As airlines constantly search for ways to streamline and improve customer service, Delta recently announced that all 19,000 flight attendants will be using new Windows Phone 8 handheld devices on every flight. The airline believes that equipping staff with innovative solutions will allow them to better meet customers' needs.
The devices will allow flight attendants to issue not only near-real-time credit card processing but also can email receipts for on-board purchases, such as food or upgrade charges for Economy Comfort seating. No more looking for lost receipts!
Future customer service implications are that flight attendants will have access to real-time data. Imagine the situation of a late arriving flight and the flight attendant being able to tell you that your connecting flight has already been re-booked. No more worrying about whether or not you'll make it to your final destination!
Emirates Air has been using a "Knowledge-Driven Inflight Service" (KIS) on a Thinkpad laptop, since 2004. They recently switched to HP's new ElitePad tablet to facilitate ease of handling. KIS allows them a thorough understanding of all customers aboard each flight, of any special needs, frequent flyer information and seating and food preferences. British Airways and American Airlines are among the other airlines with similar initiatives.