Around Me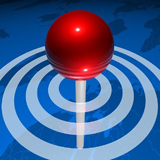 If you travel a lot you know that finding your way around in a new destination can at times, be frustrating. You may end up wasting valuable time in a busy day looking for the nearest ATM, coffee shop, restaurant or pharmacy.
There's a handy app to help you find these places quickly and efficiently. Around Me has been around since 2008 and sees over 25 million searches every month, in over 200 countries, making it the most popular app of its kind.
The app uses your phone's GPS to identify your position as well as working with the likes of Booking.com, Opentable.com, Foursquare and other localized data providers. The app sorts through all available data to quickly locate the nearest of whatever it is you're looking for. Categories you can search include such businesses as dentists, doctors, dry cleaners and many more.
Around Me is a free app, available for iPhones, iPads and for Androids.