Bravolol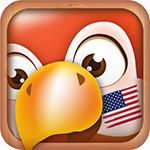 For international travelers, a translation app can be invaluable. And the market has responded with literally dozens of options. We recently discovered Bravolol as a nice option to keep on your phone.
Bravolol is designed as a phrasebook, grouped into categories such as greetings, transportation and eating. Each phrase shows the translated version and for languages such as Russian and Japanese with a different character set, it also shows a transliteration. For all languages, you can tap on the phrase to hear it spoken.
There are over a dozen languages available, though each one is a separate app. However, in recognition of high international data roaming costs, all translations are stored in the app with no need to access the internet.
The app is free for iOS and Android, though to unlock all categories, you must upgrade to the paid version at $4.99. To download the app, go to bravolol.com to select the language.