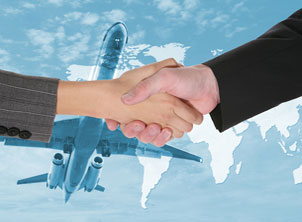 To an extent, all travel has risks associated. Generally any issues that arise during personal travel are the responsibility of the traveler. But because of its very nature, issues that arise during business travel are the responsibility of the traveler's employer.
With recent worldwide events, it's more important than ever that companies have a strong Duty of Care program in place to ensure the safety and wellbeing of its traveling employees. We spoke with business travel expert Road Warriorette to get more information.
What is "Duty of Care"
In a nutshell, Duty of Care is a company's moral and legal obligation to take care of its employees in an emergency situation. Whether it's a natural disaster, civil unrest, or exposure to disease, employers have a responsibility to ensure the wellbeing of employees traveling for work.

From an employer's perspective, it's increasingly important to have tools and policies in place for Duty of Care for traveling employees. Many countries around the world are implementing strict laws to help protect business travelers. But until those laws are worldwide and regulated closely, it's critical for a company to ensure they have an effective Duty of Care program.

As an employee traveling internationally, remember that a corporation generally has more resources than you will have, and can assist you in the event of an emergency.
Why is it Important?
We live in a global economy, and business is conducted around the world. All business travel exposes employees to a higher level of risk, and that risk is inherently higher when traveling internationally. That heightened risk also means heightened responsibility for an employer.
To clarify, here are some specific examples of a situation where Duty of Care comes into play:
Riots in the city an employee is visiting
Exposure to malaria
An earthquake or hurricane in the area an employee is visiting.
In these instances, it is imperative that a company knows where their employees are and have the resources to respond to the emergency.
What Does it Look Like in Practical Terms?
There are several concrete ways a company can exercise its Duty of Care. Making sure insurance programs are set up for international coverage, alerting travelers to any disturbances in the area, and knowing where their employees are in the world are just a few examples.
What Can I Do as a Traveler?
As a traveler there are several things you can do to ensure your company can cover you during your trip. Find out your insurance coverage ahead of time, and work with your employer to cover any gaps. Also, make sure that your travel plans are completed through your UNIGLOBE Travel agent. This will ensure that your company has one place to go to identify the location of travelling employees. If any arrangements need to be made direct (like hotel bookings through a conference website), ensure that you send those details to your agent. Finally, keep your contact information up to date, especially if you use a separate phone for international travel.

How Does Uniglobe Help Companies Manage Their Duty of Care?
Uniglobe offers several services that keep travelers safe and help corporate travel departments manage Duty of Care for their traveling employees. The personalized Travel Advisory gives employees a wealth of information prior to their trip, focusing on information that could affect the quality of their travel time.
Travel Alerts will alert travelers to any major event that could disrupt their itinerary, including terrorism, civil unrest, transportation disruptions, or severe weather. The Travel Tracker is a tool that assists organizations in tracking all of their employees who are currently traveling. The single snapshot of travelers around the globe allows employers to monitor and assess risks in real-time. Travelers can be contacted and advised if necessary.
If you have questions about Duty of Care or what programs your company has in place, please contact your travel manager.