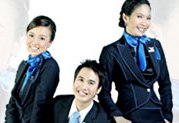 The Suvarnabhumi Airport in Bangkok, Thailand is growing fast; the airport saw 51,462,000 passengers last year alone. It should be no surprise that the airport authority have expansion plans on the go. In April, phase two will be assigned to the winning bid and construction will take place from May 2013 to February 2014. In the mean time here are tips on navigating the current airport, recommend dining options and suggestions on how to pass the time while on a long layover.
Getting around: The airport isn't huge, but is often quite crowded and chaotic. Give yourself plenty of time and anticipate wait times for your luggage to arrive at the carousal. Shuttle buses are free of charge and provide service between the main terminal and the transport centre, as well as connecting other airport facilities.
Dining: The more-than 50 dining options in the airport have been carefully selected according to the travelers that will likely be passing by. For example, the eastern concourses (A, B, C and the east side of D), with gates occupied by Japan Airlines and Thai Airways, are home to several Asian eateries, while the western concourses (E, F and the west side of D) offer more European-style cuisine because that's where the gates to Europe and the US are situated.
Relaxing: For a little pampering head to one of three spas located on the third floor. Or, to catch some shut-eye, visit the day rooms located on the same floor. If you are feeling energetic and have some time, consider booking a tour of Bangkok. Tours can be booked departing and returning to the airport and last for 4, 5 or 7 hours. Visit any tour desk to reserve your spot.
WiFi: Free WiFi is available at the Bangkok airport for 15 minutes. Beyond that time, you will have to pay. There are 126 internet kiosks scattered around the airport offering free internet. Users can only connect for 15 minutes at a time. Once your time expires you can login again.