United Mileage Plus and Marriott Rewards Introduce "Rewards Plus"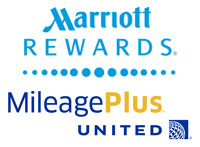 Not to be outdone by the recent Delta & Starwood Hotel crossover of rewards programs, United Mileage Plus and Marriott Rewards recently announced a partnership between their two programs.
The new "Rewards Plus" promotion offers select United Premier and Marriott Elite members status in both programs. Effective immediately, "RewardsPlus" offers United MileagePlus members of Gold status and above Marriott Rewards Gold Elite status, while Marriott Rewards Platinum Elite are eligible for United Premium Silver status. This status matching is available until January 31, 2014.
Unlike the recent program announced by Delta and Starwood, the program does not allow travelers to simultaneously earn miles and points in both loyalty programs for the same booking. However, effective in August of this year, travelers will receive added value when transferring points into miles and will get additional miles for travel packages. For the first time, MileagePlus members will be able to transfer miles into Marriott Rewards points.
Some of the perks involved include one free checked bag when flying, complimentary Premier upgrades on domestic flights, room upgrades, free high-speed internet and late check-out.